10 Colored Wigs That Perfectly Complement Dark Skin
10 Colored Wigs That Perfectly Complement Dark Skin
Unleash your inner fashionista with our vibrant and daring selection of colored wigs that beautifully complement dark skin tones! Wigs have long been a go-to accessory for transforming one's look, and these stunning options will not only frame your gorgeous features but will also enhance your melanin-rich complexion. In this post, we have handpicked 10 stunning colored wigs that are perfect for every style preference and occasion. From pastel hues to bold and fiery shades, you'll find the perfect wig to showcase your unique personality while turning heads and making a statement. So, get ready to embrace your colorful side and let your hair do the talking!
Top 10 chic colored wigs for Black skin tone
Here is a list of 10 colored wigs that perfectly complement dark skin tones, providing a vibrant and flattering look:
1. Burgundy (#99j)
A burgundy wig can look stunning on a dark skin tone. Burgundy is a rich and deep shade of reddish-purple or reddish-brown, and it adds warmth and dimension to the complexion. It can complement dark skin tones well and create a striking contrast that highlights the beauty of both the hair and the skin.

2. Jet Black (#1)
A jet-black wig adds contrast and enhances the beauty of dark skin tones, providing a sleek and classic look. This hair shade looks natural and stunning on a dark skin tone. It's a never go wrong option for most black women.

3. Chocolate Brown
The rich, warm hue of the chocolate brown color can create a harmonious contrast with the darker skin, highlighting the natural beauty and depth of the complexion. This color choice can also soften and bring warmth to the overall appearance, creating a striking and flattering look. Ultimately, it comes down to personal preferences, individual style, and the desired outcome.

4. Auburn (#30)
An auburn-colored wig offers a warm, red-toned hue that enhances dark skin tones, creating a vibrant yet elegant appearance. The warm, reddish-brown hue of auburn hair can complement and contrast beautifully with darker skin tones, enhancing your features and creating a striking look.

5. Honey Blonde (#27)
Honey blonde is a warm shade that can complement and highlight the rich undertones of dark skin, adding a beautiful contrast and a unique look. A honey-blonde wig offers a rich golden hue that beautifully contrasts dark skin, providing a stunning sun-kissed effect.

6. Copper (#35)
A copper wig adds a warm, orange-toned glow to dark skin, creating a fiery and eye-catching look. The warm, reddish hue of the copper can provide a beautiful contrast against darker complexions.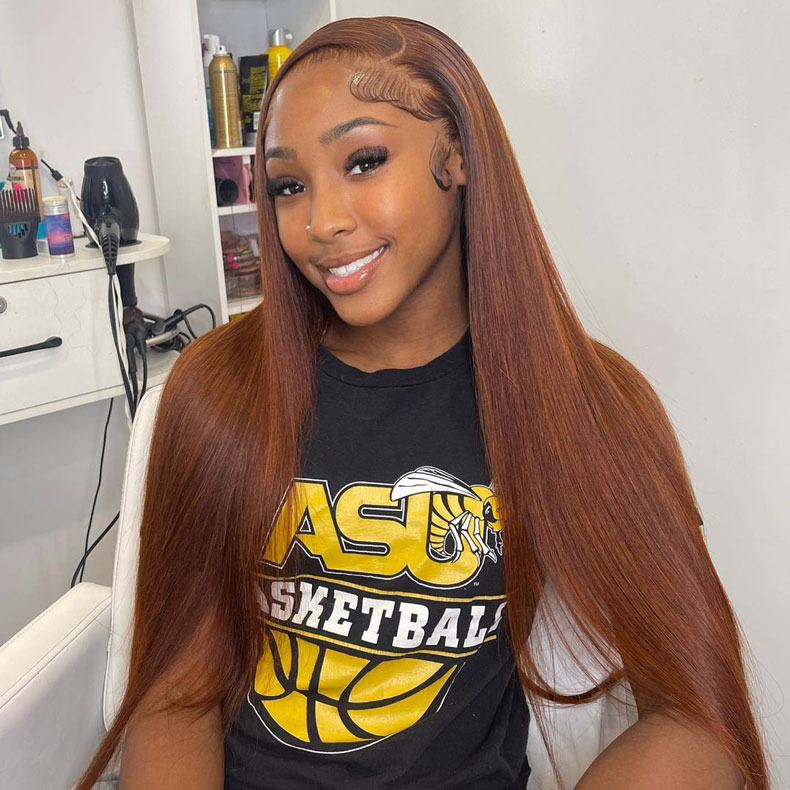 7. Green
Emerald green wigs provide a bold, jewel-toned color that pops against dark skin, making for an alluring and fashionable statement. The contrast between the vibrant green color and the rich, dark skin tone can create a bold and eye-catching look.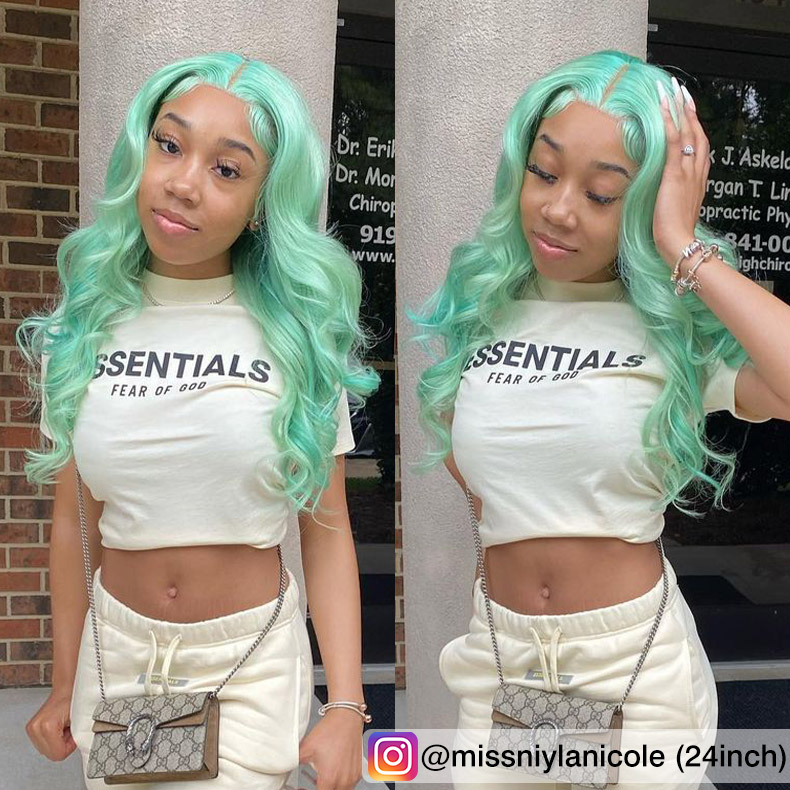 8. Deep Blue
A blue wig offers a vibrant, cool-toned hue that complements the richness of dark skin tones, adding an edgy and striking touch. Dark skin tones typically have warm, cool, or neutral undertones, which can play a significant role in determining the best shade of blue.

9. Pink
A delicate, pink-toned wig pairs well with dark skin tones, creating a soft and romantic look. Pink wigs can add a vibrant pop of color and complement your dark skin tone beautifully.

10. Purple
Purple wigs, particularly lavender shades, add a bold and regal touch that enhances dark skin tones, offering a striking and fashionable appearance. The cool, pastel shade of lilac creates a beautiful contrast against the rich, deep hues of dark skin. This color can be particularly striking if you have cooler undertones in your complexion. Additionally, a lilac wig can bring a unique, stylish, and modern touch to your overall look.
Ula Hair offers various human hair wigs in a variety of colors and textures, click and discover Ula Hair colored wigs that are specially designed for black women.

Factors that need to take into consideration while choosing a colored wig:
When selecting a colored wig, there are several factors to take into consideration. Here are some key aspects to help you make the best choice:
Face shape: Consider your face shape (oval, round, heart, square, etc.) when choosing a wig. Certain colors and styles can complement specific face shapes better than others.
Skin tone: Choose a wig color that complements your skin tone. Warmer colors typically suit warm skin tones, while cooler colors are better for cool skin tones. For neutral skin tones, both warm and cool colors can work well.
Eye color: The wig color can also emphasize your eye color, so choose a shade that brings out the best in your eyes.
Personal style: Think about your style and how the wig color fits in with your wardrobe, makeup, and overall aesthetic.
Wig type: Consider whether you want a synthetic or human hair wig. Synthetic wigs are more affordable and require less maintenance, but they may not look as natural. Human hair wigs offer more versatility and can be styled like your own hair.
Length and style: Consider the length and style of the wig. This will also affect how the color looks on you. A long, straight wig in a bold color might look striking, while a shorter, curly wig in the same color could look more playful.
Color gradients and highlights: Wigs with multiple colors, gradients, or highlights can create a more natural and dynamic look. Consider whether you want a solid color or a mix of shades.
Maintenance: Some wig colors require more maintenance than others. Light-colored wigs may show dirt and stains more easily, while vibrant colors may fade over time.
Occasion: Consider the occasion for which you'll be wearing the wig. Bold colors might be more appropriate for special events or parties, while more natural shades might be better for everyday use.
Return policy and reviews: Read customer reviews and check the return policy before purchasing a wig, as they can let you know the quality and color accuracy. If possible, try on the wig before purchasing to ensure the color is right for you.
Conclusion
In conclusion, these 10 stunning colored wigs offer the perfect blend of vibrancy and contrast, flawlessly complementing dark skin tones. With shades ranging from chic pink to deep blues, they provide an incredible opportunity for self-expression and creativity. Not only do these wigs make a bold fashion statement, but they also allow for endless possibilities in transforming one's look with ease. By selecting the perfect color to complement your skin tone, you can confidently showcase your personality and individuality in a head-turning way.
When selecting a colored wig, consider your style, the occasion, and how the color will complement your overall look. Remember that wigs can be a fun way to experiment with different colors and styles, so don't be afraid to try something new and step out of your comfort zone.
Last but not least, always feel free to experiment with different wig colors and styles to find the perfect combination that suits you best.
Related Posts:
All you need to know about 1b hair color
Platinum Blonde Hair vs. Ash Blonde Hair
5 Chic Blonde Wigs You Shouldn't Miss This Year