How to choose the best wig length?
How to choose the best wig length?
Wigs are available in a variety of lengths in the market. Typically, it can range from 6 inches to 30 inches. And the textures can also impact the lengths the wig appears. All these factors make it a hard task to choose the best suit wig length, especially for wig beginners. If you also feel confused about how to choose the best wig length, keep scrolling.
In this post, we are going to teach you how to choose the perfect wig length.
Let's start from the basics-how a wig is measured?
How a wig is measured?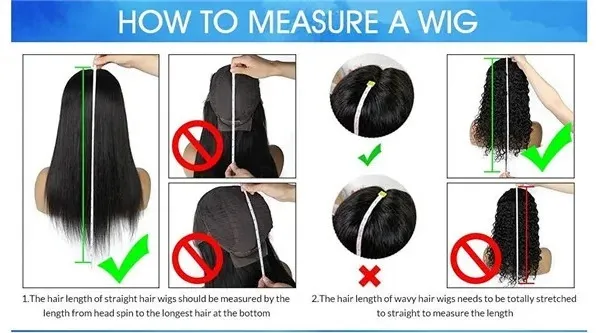 Put the hair extension or the wig on a flat table. If your wig or hair isn't straight, stretch it and make it as straight as possible. Locate the longest part of the hair and place a ruler to measure from the roots near the crown to the ends.
Now you know how hair vendors measure a wig. So you can better understand why the different textures may appear to give a different look at the same length. Curly and wavy hair looks a little shorter than its original length. So if you are purchasing a curly wig, you should consider ordering one that longer than your straight wig.
What to consider while choosing a wig length?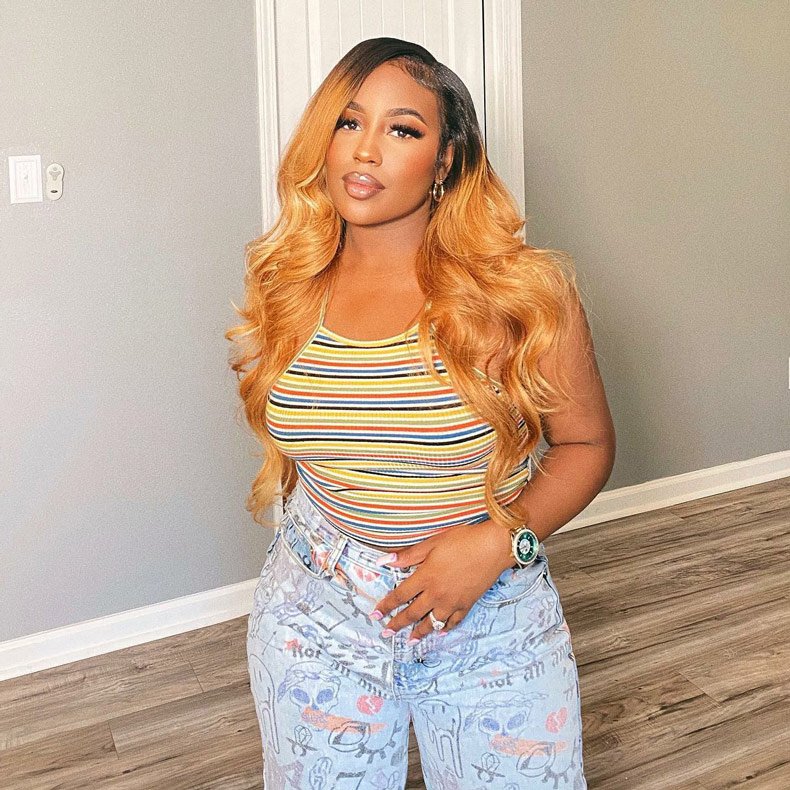 Apart from the hair textures, here are some other factors you need to consider while choosing the best suit wig length:
Your height: We know that our hair length should match our height to achieve a natural balance. If you are petite, a very long wig that is longer than 30 inches can counter your height and make you look shorter, while a short pixie wig or a bob wig can make you look taller. Similarly, If you are tall, a short hair wig may make your look taller while long to medium hair length can counter your height and make your look more natural.
Your face shape: If you have a round face, medium to long hair makes your face appears slimmer. On the contrary, if your face shape is long and slim, a short to medium hair length with a lot of body can create a great balance on your face and boost your charm.
Hair density: If you desire longer hair (more than 18 inches), higher density (higher than 150% density) can give you enough volume and fullness. High density can better match with long hair and make your hair look full from roots to tips.
Hair textures: Curly and wavy textures make the hair appears shorter than its actual length. For example, 14-inch wavy hair appears 2-3cm(1 inch) shorter than straight hair.
Your lifestyle: Long hair requires more time for daily care. If you don't want to spend too much time maintaining and styling your hair, short to medium hair length can better suit you. If you are buying a wig to rock various hairstyles, long hair with high density is a better choice for you.
Your budget: Typically, the longer the hair length is, the more expensive the hair extensions.
The above-mentioned factors can impact the best suit hair length for you. Besides, we highly recommend you pick longer hair if possible. Cause long hair can support more hairstyles and you can cut to reach the length you desire. But if the wig length is too short, it's troublesome for you to expand its length. If you feel long hair extensions are too expensive, why not order cheap human hair wigs or human hair extensions at Ulf Hair directly. Ula Hair has its own hair factory in China, it can offer the best quality hair at an unbeatable price.
Recommend wig length/ hair length: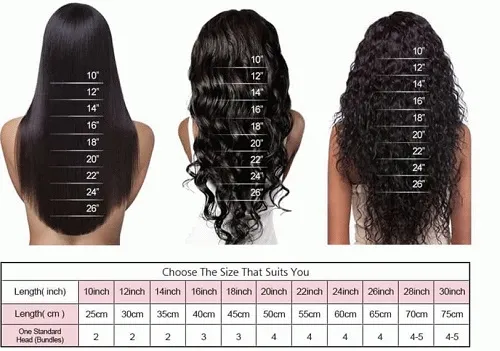 Here are the most preferred hair length recommended:
12-inch hair: 12 Inch hair length is equal to 30cm, which is also known as shoulder length hair. This hair length is ideal for a bob or messy haircut. What's more, it is lightweight and comfortable for wearing, and easy to take care of.
18-inch hair: 18 Inch hair is one of the most popular hair lengths that women go for. It comes down over the shoulder and reaches the back. It's a long hair length that is available in a variety of beautiful hairstyles.
26-inch hair: 26 Inch hair( equal to 65cm) is a long hair length that can reach up to a woman's waist. It's luxurious and is available in almost all hairstyles.
Ula Hair offers various human hair wigs and hair extensions in a variety of lengths, textures, and colors. Our wigs and hair weaves are all made with virgin hair, soft, silky, healthy, and can last for a long time. Ula hair is experienced in selling and exporting wigs and hair, we can definitely provide the best quality wigs and hair at the most unbeatable price and with the fastest delivery. What's more, Ula Hair also provides custom service so that we can cover all our customers' needs. Even if you don't find your best suit on the in-store unit, Ula hair can also get you covered.
Related Posts:
Hair length chart | How long is 14 inch hair?
Is 150 density good for a wig?