Clip-in extensions Vs. Microlink extensions
Clip-in extensions Vs. Microlink extensions
What are clip-in hair extensions?
Clip-in hair extensions are hair extensions that attach to natural hair via small pressure-sensitive clips. This is a quick and easy extension method that requires no glue, no heat, and no cornrows. With clip-in hair extensions, you can easily achieve a longer and fuller hair look yourself at home in a few minutes and rock any hairstyles you desire.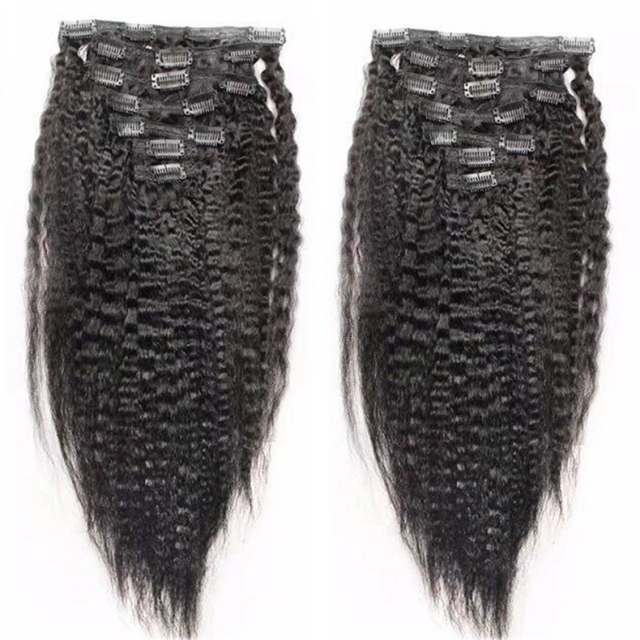 What are microlink extensions?
Microlink extensions, also known as microbead extensions, are a safe and easy way to add length and volume to natural hair via tiny and lightweight silicone microbeads or microtubes. This extension method allows you to expose your natural hair out of the weave.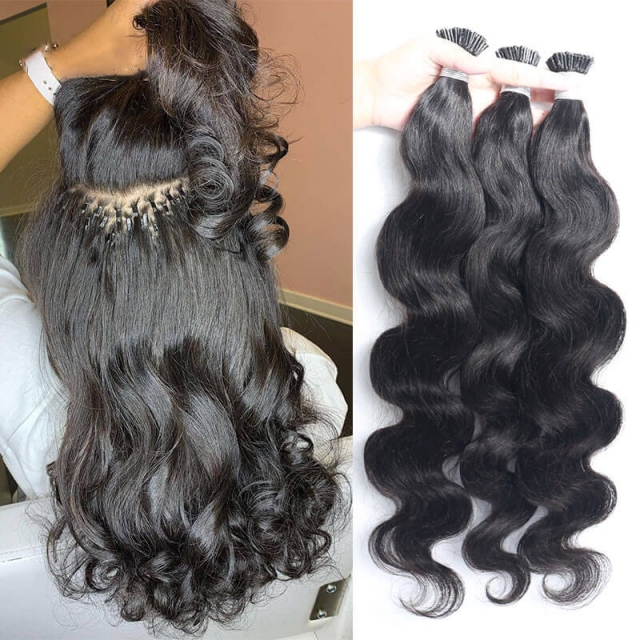 Pros and cons of clip-in hair extensions
Pros:
Easy to install and remove: Clip-in extensions can be put in and removed within a few minutes, even for a beginner. To install clip-in extensions, you just need to section your natural hair horizontally and attach clip-in hair extensions by pressing down the clips. You can complete the entire process by yourself within a few minutes. Although you have to remove your clip-ins every night, the removal process is also quick and beginner-friendly.
Require No Heat, No Glue, No Tape: Clip-in extensions have featured small sensitive clips under the weft out of the box. The installation and removal of clip-in extensions require no heat, no glue, and no tape. This makes the clip-in extension a safe and protective choice, ideal for those who are looking for a safe & healthy way to add length and volume.
Cons:
Short Duration: Clip-in extension is not a permanent method. You have to take it off at night before heading to your bed, or the clips can tangle with your natural hair and lead to hair loss and breakage. Thanks to that clip-in extensions can also be quickly reinstalled within a few minutes in the morning, it's still an ideal option for lazy girls and busy girls.
Pros and cons of microlink extensions
Pros:
Easy Access To Your Scalp: With microlinks, you don't need to cornrow your natural hair or put on a wig cap. So you can easily access your natural hair and scalp which brings an added convenience to your daily hair care routine. We all know that a healthy and clean foundation can help with natural hair growth. When properly maintained, microlinks can also promote hair growth.
Your Natural Hair Is Exposed: Microlinks allow all your natural hair out of your weave, which not only provides benefits to your daily hair care routine but is also airy and comfortable.
Lightweight & Undetectable: Ula Hair's microlink extensions feature extremely tiny and lightweight micro beads for a lighter and less-stressful feeling. Our Microlinks are comfortable, lightweight, and suitable for long-term wearing.
Longer Duration: When installed and maintained properly, microlink extensions would last for 8-12 weeks. With microlinks on, you don't need to remove your extensions every night and don't need to reinstall them every morning.
Cons:
Have To Be Done By A Pro: Unlike tape-in extensions or clip-in extensions, microlinks must be attached to your hair strand by strand. The whole installation process is longer and requires more patience and special tools. We highly recommend having a professional install the microlinks.
Take More Time In Installation & Removal: The whole installation of microlinks can take about 2-3 hours. And it takes about 2-3 hours, too. You'd better have a psychological reaction to sitting in a salon for a long time.
Require Some Professional Upkeep: After you have put on a full head of microlinks, your natural hair still keeps growing and the dirt keeps building up. So you will need to go to the salon to reposition the beads and detangle the natural hair every 4-5 weeks.
Conclusion:
No matter which type of hair extensions you opt for, they all have advantages and disadvantages, so you don't need to struggle too much. If you desire extensions that can last for a longer time, consider opting for microlinks. If you want a quick way to boost your charm, the clip-in extension is the most suitable option. By the way, no matter what extensions you decide to try, make sure they are made of 100% cuticle-aligned human hair to ensure a natural result.
Where to buy clip-in hair extensions?
Ula Hair provides clip-in extensions for black women in various lengths, textures, and colors. No matter what hair type your natural hair is, you can find the perfect-fit clip-in extensions at Ula Hair. What's more, Ula Hair's clip-in hair extensions feature extremely lightweight clips for minimal tension on your scalp. And our hair extensions are all made with 100% human hair, which can give the wearer a more realistic and undetectable result. Explore affordable human hair clip-in hair extensions for black women at Ula Hair.
Related Posts:
Tape-In Vs. Clip-In Extensions
Tutorial: How to tape in hair extensions?