Tape-In Vs. Sew-In Extensions
Tape-In Vs. Sew-In Extensions
Compared with traditional sew-in hair, tape-ins are also a hit recently, especially among black girls. However, some people don't know how to choose among them. Take it easy. Ula has got you covered and is here to make a simple comparison between tape-ins and sew-ins. We hope this can be helpful for you when you are buying hair extensions.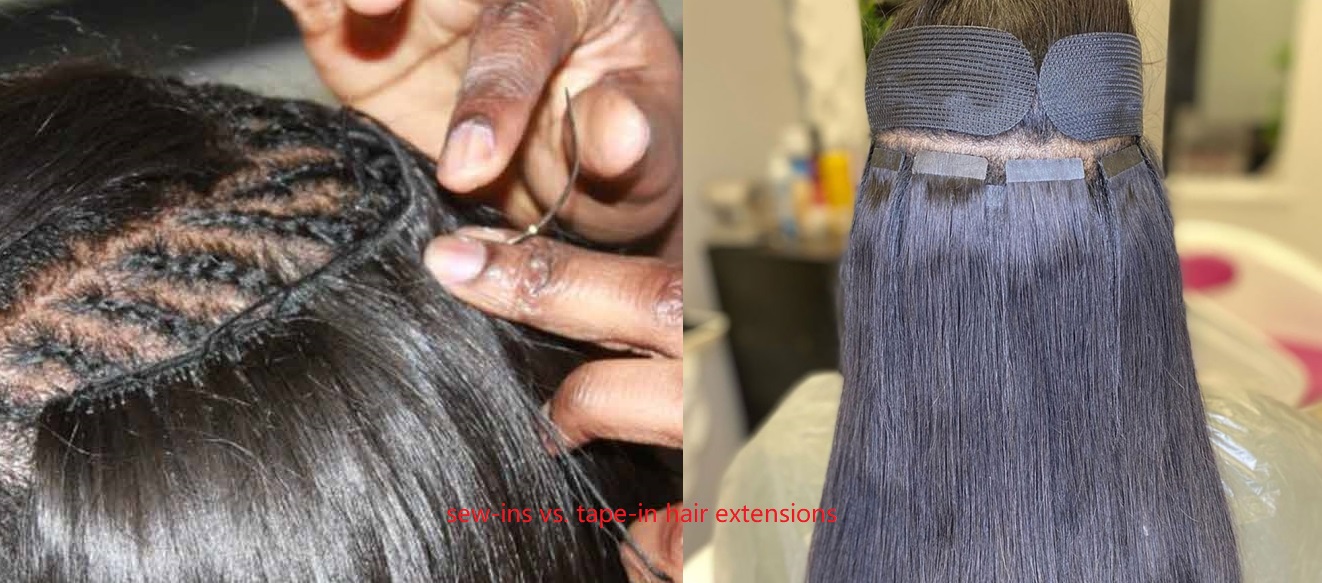 What Are Tape-In Extensions?
Tape-in extensions are thin (1 inch wide) pre-taped hair wefts that are used to attach hair extensions to natural hair. Tape-ins may sound like they could damage your hair. But the adhesive on the tape is the medical grade which is safe for natural hair. And the installation of tape-ins is relatively easy and requires no thread, no glue. These are why tape-ins are now becoming more and more popular among black women.
What's Sew-In Hair?
Sew-in hair weave is sewed directly to braided hair with a thread and needle. It's also the most preferred way to add length and volume to natural hair. It's safe and firm. You will never face the embarrassment of slide-off.
Pros And Cons Of Sew-in hair extensions
Pro:
Natural And Seamless Hair Look: Make sure your hair weaves for sew-in are 100% human hair and your braided hair underneath is flat. These are the points to achieving a realistic and undetectable hair look.
Protective Style: Your natural hair should be braided into cornrows before the sewing process. Sew-in weave is an excellent way to protect your natural hair from daily heat styling.
Low-Maintenance: If the hair extensions you buy for sew-in are real human hair. Your sew-in weave will not get tangled or lost easily. It doesn't require much special care, you just need to treat your sew-in hair as you would on natural hair.
Versatile In Styling: Sew-in hair always allows you to slay endless styling options and change up your hair look as you desire. All you need to do is to ensure the hair weaves you buy for sewing are made of 100% cuticle-aligned human hair.
Safe For The Sensitive Scalp: The installation and removal of sew-in hair require no glue and no heat, which makes it a safe choice for those who suffer from sensitive scalps.
Con:
The Installation Takes More Time: Since you have to section your natural hair and braid it into cornrows before the sewing process. The process of sew-in hair can take about 3-6 hours, while tape-ins can be applied around 30-45 minutes typically.
Not Suitable For Bald Hair: Because tape-ins or sew-ins are directly applied to your natural hair. If you have bald hair, wearing a wig should be a more suitable choice.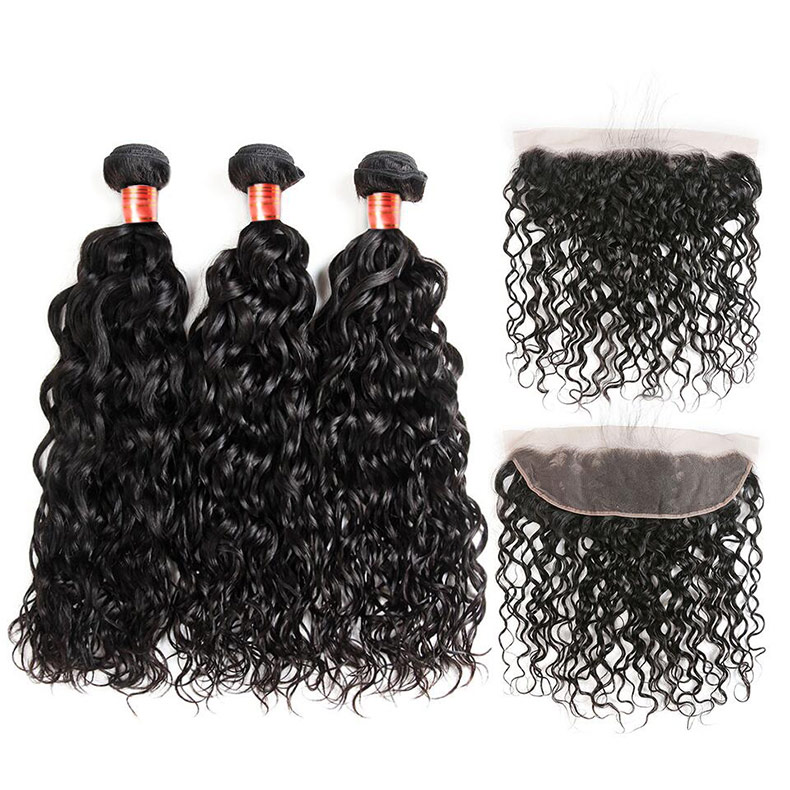 Tape-In Extensions Pros And Cons
Pro:
Natural And Seamless Hair Look: Quick And Easy To Install And Remove: The installation process of tape-ins is relatively easy and takes less time than sew-in hair. The stylist just needs to peel away the tab on the sticky tape, and then sandwich two pieces of tape-ins together with a thin strand of natural hair in between.
Can Be Reusable: Tape-in extensions can be reused for 3-4 applications with proper maintenance and removal. And the process to reuse them is also quite easy. You just lay down the tape-ins with the sticky tab up forward, and then apply some glue remover to remove the old tape and finally apply the new one.
Versatile In Styling: Tape-ins may not seem invisible when it comes to styling. The magic happens when you leave out natural hairs around the hairline and edges. Tape-ins also allow you to rock high ponytails or top knots!
Safe For The Sensitive Scalp: Similar to sew-in hair, the process of tape-in extension requires no glue and no heat. As a result, tape-ins are a relatively safe choice that seldom irritates the scalp.
Easy access to your natural hair and scalp: Tape-ins are applied with your natural hair being left out. This can not only allow your natural breath but also allow your daily hair cleaning to run smoothly.
Con:
Have To Be Installed By a Pro: Although it is not difficult to install and remove tape-ins. To better protect your natural hair and reduce unnecessary hair loss, we highly suggest you get these done by a professional stylist in the salon.
Not Suitable For Very Short Hair Or Oily Hair: Tape-ins may not be a wise choice for you if you sweat a lot or you have oily natural hair. Cause the tape may become loose if it is constantly saturated with water or oil. Furthermore, if your natural hair is so short that the tape is barely visible, tape-in extensions will look obvious on you.
Sew In Vs. Tape In, Which Way Should You Go For?
Choosing between tape-ins and sew-in hair is more a matter of personal preference and lifestyle.
If you enjoy doing gym in your spare time or you often sweat a lot, or you have oily natural hair, tape-ins should not be a wise choice for you.
If you often worry about whether the extensions or wigs will slip off, sew-in hair should never be a concern.
If you don't want to spend too much time on the installation, tape-ins are for you.
We hope that this post can be helpful when buying hair extensions. If you still don't know which hair type you should go for, feel free to reach our consultants. Ula's customer service team is only a screen away and is always happy to help.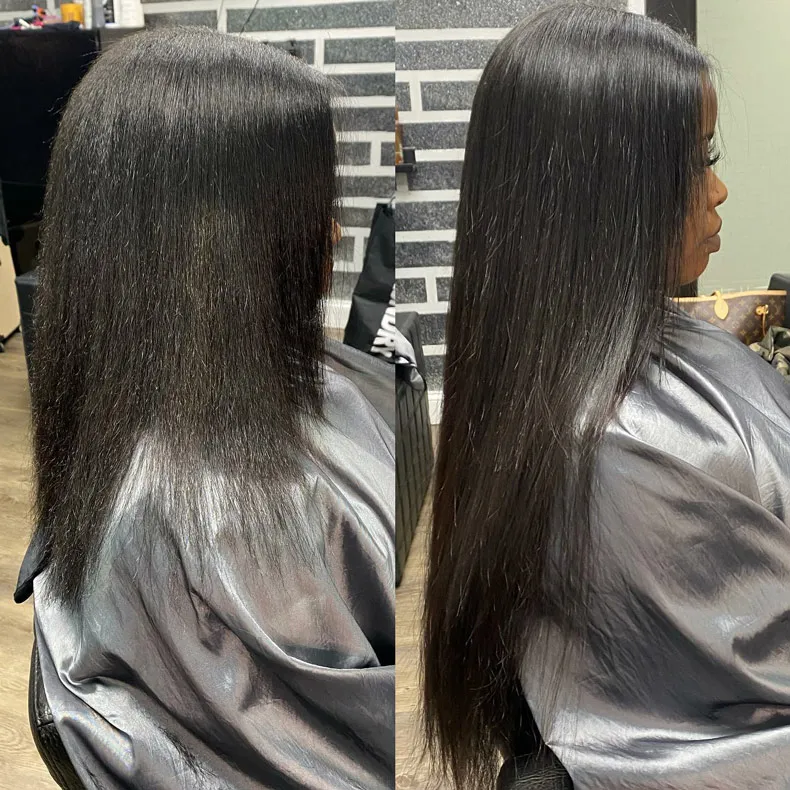 Where To Buy Affordable Human Hair Extensions Of High Quality?
Not all hair stores sell tape-ins and clip-in extensions. Since Ula Hair has its own hair factory in China and has a long history of selling high-quality human hair wigs and extensions. Ula Hair can definitely offer you quality-guarantee hair extensions at an unbeatable price, which is usually 50% cheaper than other online hair stores. Click to explore the latest selection of tape-in extensions and clip-in extensions in various shades and lengths. No matter what texture you desire, you will find one that perfectly matches your hair in Ula Hair. What's more, all our hair extensions are made of 100% cuticle-aligned human hair. They are textured, bouncy, durable, and can be dyed, permed, and restyled as you desire.
Related Posts:
All You Should Know Before Buying Tape-In Extensions
Clip-in Extensions Frequently Asked Questions
Tutorial: How to install clip-in extensions?
Tutorial: How to tape in hair extensions?