Ula Hair Glueless Wear And Go Wigs
At Ula Hair, we've been serving the hair needs of black women for a long time, providing them with premium human hair wigs that truly make a difference. Our dedication is unwavering - we aim to deliver high-quality wigs that do more than just change a look. We want every woman who shops with us to feel an incredible boost of confidence, to experience a transformation that's more than skin-deep.
Our dream has always been to ensure that no black woman should be denied the opportunity to own a high-quality human hair wig because of cost. We believe in making these transformative products both accessible and affordable.
We're excited to share that we've added a new line of products to our offerings – the "wear and go" glueless wigs. These wigs are all about making life simpler and more beautiful. Forget about those complicated, time-consuming wig installations. Our wear and go glueless wigs are designed for quick, hassle-free use – perfect for today's dynamic, busy women. You're going to love the convenience and style that these human hair glueless wigs bring to your life. So, stick around as we reveal more about these game-changers.
The Ula Hair Wear and Go Glueless Wigs
Let's talk about our new wear and go glueless wigs. We designed these wigs with your needs in mind, incorporating features that make these not just regular wigs, but a revolution in wig-wearing convenience and comfort.
100% Human hair: Each wig is made from 100% human hair, giving it a natural look and feel. You know that synthetic shine that's a dead giveaway? You won't get that here. Our wigs blend seamlessly with your hair, creating a look that's as real as it gets.
Effortlessly melting, super natural hairline: Let's chat about the pre-cut HD lace. We've taken care of the trimming for you. This lace is delicate, soft, and most importantly, blends flawlessly with various skin tones. And to keep it looking natural, we pre-bleached the knots, ensuring the hair looks like it's growing straight from your scalp.
But we didn't stop there. We also pre-plucked the hairline for a natural and realistic look. This saves you the time and possible frustration of having to customize it yourself.
Non-slip, Premium security: As for the structure of our glueless lace front wig, we've incorporated non-slip silicone strips and an adjustable band into the design. These features ensure that your wig stays right where it should be - on your head, looking fabulous. Whether you're dancing at a club or chasing deadlines at work, your wig isn't going anywhere.
Quick installation in just 30 seconds: One of the standout features of these wear and go wigs is how quickly you can install them. You read that right - 30 seconds is all you need to put this wig on and be ready to go.
Airy cap design for premium comfort: Last but definitely not least, we've designed an airy cap for these wigs. Your scalp is available to access the air and can breathe freely to stay healthy, and our cap design ensures just that.
All these features are the result of careful thought and design, aimed at providing you with the best wig-wearing experience possible. With our wear and go glueless wigs, we're making it easier than ever to look and feel your best, no matter where you are or what you're doing.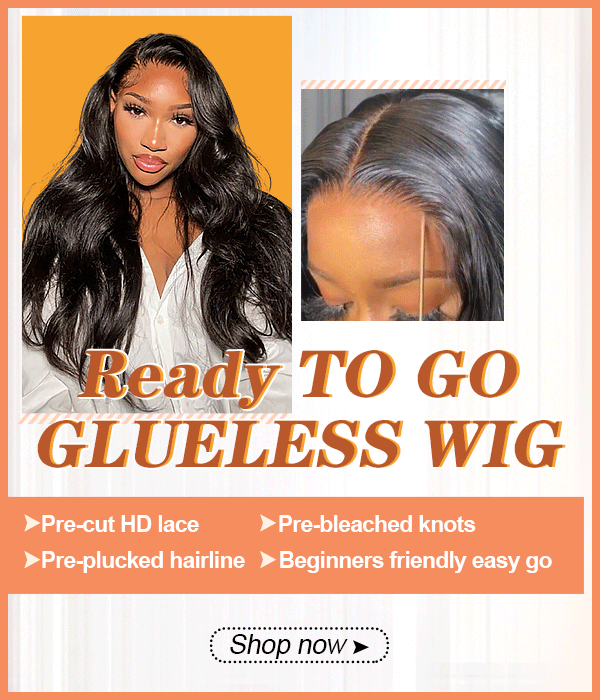 The Benefits of Ula Hair's Wear and Go Glueless Wigs
Our wear and go glueless wigs come with a whole range of benefits. We've aimed to change the wig game, and we believe we've done just that. Here's how:
Convenience: Who has the time to fuss with a wig for hours? With our wear and go glueless wigs, you can be ready to step out the door in seconds. We're talking about wigs that you can wear and go. They're perfect for those busy mornings when you're rushing to work, or when you just want to switch up your look in a jiffy.
Affordability: At Ula Hair, we firmly believe in providing quality products that won't make your wallet cry. Our wear and go glueless wigs are no exception. We've struck a balance between quality and affordability, making sure you can enjoy a high-quality wig without breaking the bank.
Quality: When we say 100% human hair, we mean it. Every strand on our wear and go glueless wigs is human hair, giving the wig a natural feel and appearance. The pre-cut HD lace, pre-bleached knots, and pre-plucked hairline all contribute to a premium quality wig that stands the test of time.
Versatility: Feel like rocking a different hairstyle for a special occasion? Or just want to switch up your look on a regular Tuesday? Our wear and go glueless wigs are just what you need. With the variety of styles available, and the ease of use, you can change your hair as often as you change your outfit.
Comfort: Our wear and go glueless wigs aren't just about looking good - they're about feeling good too. With an airy cap that allows your scalp to breathe and non-slip silicone strips that keep your wig in place, comfort is a given.
Choosing our wear and go glueless wigs means choosing a product that has been thoughtfully designed with your needs in mind. It's about making a choice for convenience, affordability, quality, and versatility. So, why wait? Embrace the wig revolution today with Ula Hair's wear and go glueless wigs.
How to Install the Wear and Go Glueless Wigs?
Think it's impossible to get a wig on in just 30 seconds? Think again. With our wear and go glueless wigs, you'll be out the door in less time than it takes to make a cup of coffee. Here's how:
Step 1: Prep Your Hair - To start, make sure your natural hair is secured flat. You can braid it down or put it into a low bun. The goal is to have a smooth base for the wig.
Step 2: Adjust the Wig - Before you put on the wig, adjust the straps on the inside of the cap. Make sure it fits snugly on your head, not too tight, not too loose.
Step 3: Position the Wig - Now, hold the wig by the sides (where the ear tabs are) and position it in alignment with your natural hairline. Remember, the front of the wig should sit where your hairline naturally falls, and the back should be pulled down to the nape of your neck.
Step 4: Secure the Wig - Once the wig is in position, secure it using the non-slip silicone strips and the adjustable band. This ensures your wig stays on your head comfortably and securely.
And voila! You're done. In just 30 seconds, you've gone from bare to beautiful. And the best part? With our wear and go glueless wigs, you can say goodbye to the hassle and discomfort of glues and adhesives. Get ready to embrace a new, effortless wig-wearing experience.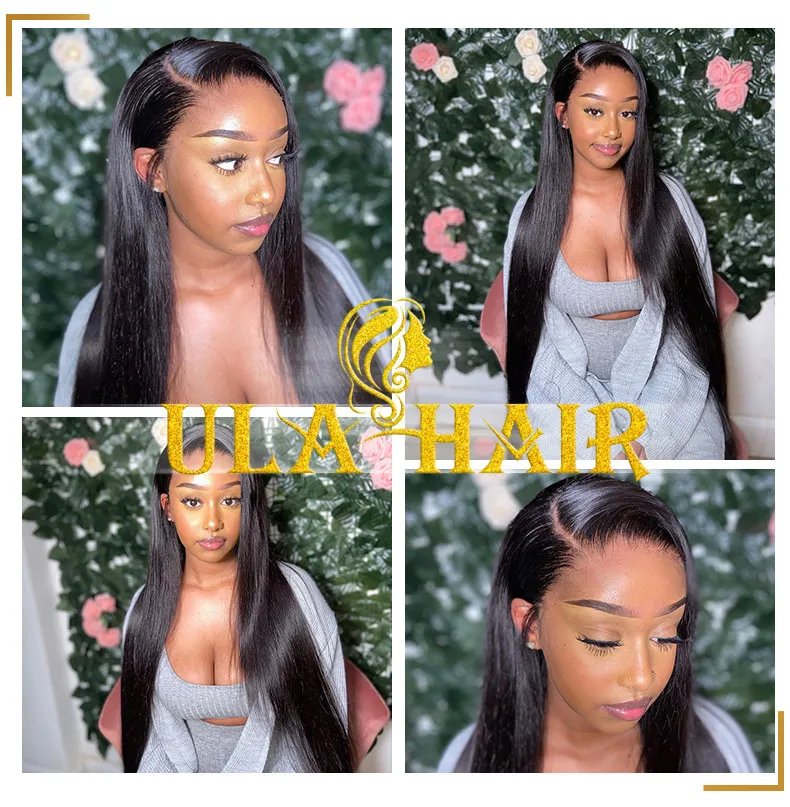 Hairstyle Recommendations for wear and go wigs
Our wear and go glueless wigs are versatile and easily styled. Here are some quick and chic hairstyles that you can rock with our lace closure wigs:
1. The Classic Down 'Do: Let the hair flow naturally down from the lace closure. This look is classic and works for virtually every occasion, whether you're going to work, on a date, or just running errands.
2. The Half-Up, Half-Down: This style is a timeless favorite. Gather the top half of your hair into a high ponytail or bun, and let the rest cascade down your shoulders. It's a quick and simple style that adds an elegant touch to any look.
3. Side Part Glam: Create a deep side part for an instant touch of glamour. This style can be easily achieved and works great if you want to showcase your facial features.
4. High Ponytail: Yes, you can put your lace closure wig into a high ponytail! Make sure your wig is secured well, then gather your hair into a high ponytail for a chic and sporty look.
5. Beach Waves: For a more casual, laid-back vibe, try styling your lace closure wig into loose beach waves. A few twists and a spritz of texturizing spray, and you're good to go.
Remember, one of the beauties of wearing our wear and go glueless wigs is the freedom to experiment with different hairstyles without damaging your natural hair. So, don't be afraid to try new styles and find the one that makes you feel like the queen you are!
Now that you're in the know about our game-changing wear and go glueless wigs, it's time for the next step. Go ahead and visit ulahair.com to take a closer look at these revolutionary wigs. Browse our collection and see which style speaks to your spirit. Whether you're looking for a bold transformation or a subtle enhancement, we've got something for everyone.
Remember, at Ula Hair, we're not just selling wigs. We're allowing you to transform your look, boost your confidence, and truly shine. With our wear and go wigs, you're embracing a world of convenience, affordability, and high quality all in one.
Join the Ula Hair family today. Make a purchase and experience the transformative power of our high-quality human hair glueless wigs. With Ula Hair, you're choosing a brand that believes in you and your beauty. Start your journey towards an effortless and stylish future by shopping at ulahair.com. You deserve it!
Related Posts:
20 Chic Heatless Straight Wig Hairstyles You Shouldn't Miss Out
20 Chic Braids For Black Women In 2023
Half Up Half Down Braids Hairstyles For Black Hair
A Comprehensive Guide to Curly Wig Hairstyles