All You Should Know About 4C Hair
All You Should Know About 4C Hair
What does 4C hair mean?
4C hair refers to a hair texture classification in the type 4 hair texture system. It is typically characterized as hair with tight, dense, and kinky curls. 4C hair is generally considered a low-porosity hair type. The cuticles of the hair shaft are tightly packed and do not easily allow moisture to enter. Thus, it is the most fragile hair type in the type 4 hair texture system and requires a lot of moisture and gentle handling to maintain its health.
Many celebrities such as Lupita Nyong'o, Solange Knowles, and Tracee Ellis Ross all have charming 4c hair.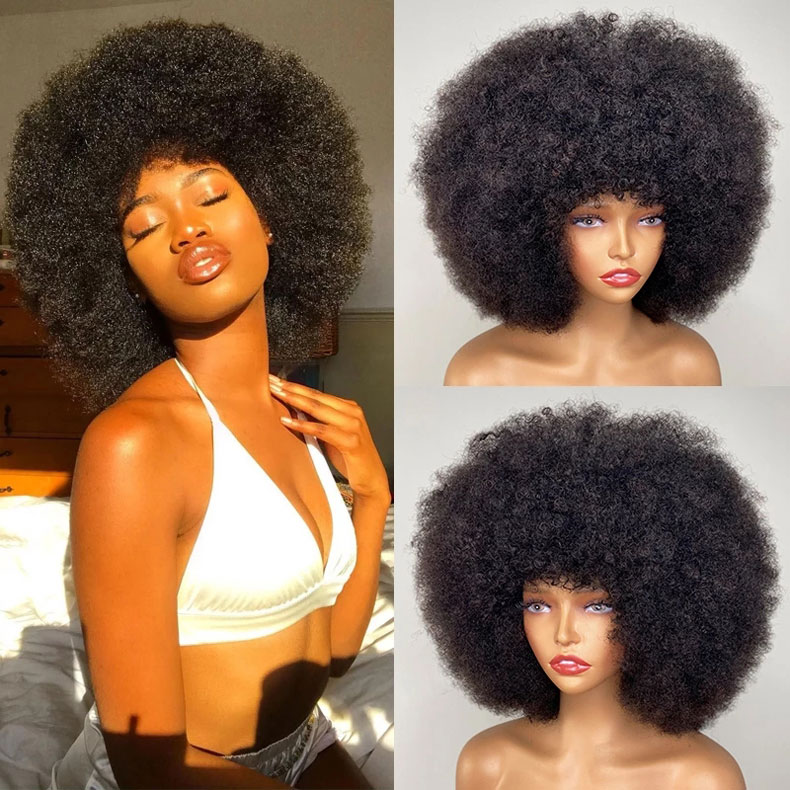 Why 4C hair doesn't grow?
It's a myth that says 4C hair doesn't grow. You may feel your healthy 4C hair grow more slowly than other hair types but it does grow. Since this type of hair is much shrinkage and comes with denser coils than other hair types, it can feel like your hair growing very slowly or doesn't not growing. Of cause, if your 4C hair is damaged by heat or chemicals, which can slow down its growth rate.
Here are some exterior factors that may slow down the growth rate of 4C hair:
Lack of proper hair care: Lack of proper hair care, such as regular moisturizing, deep conditioning, and protective styling can lead to breakage and split ends, making it difficult for 4c hair to grow.
Heat damage: Overuse of heat-styling tools, such as flat irons and curling wands, can damage the 4C hair shaft and cause it to break, making it difficult for hair to grow.
Chemical damage: Chemical treatments such as perms, bleaches, and colors can cause damage to the 4C hair shaft and scalp, making it difficult for hair to grow.
Scalp conditions: Certain scalp conditions, such as dandruff, scalp eczema, and psoriasis, can cause inflammation and irritation that can lead to 4C hair loss and slow hair growth.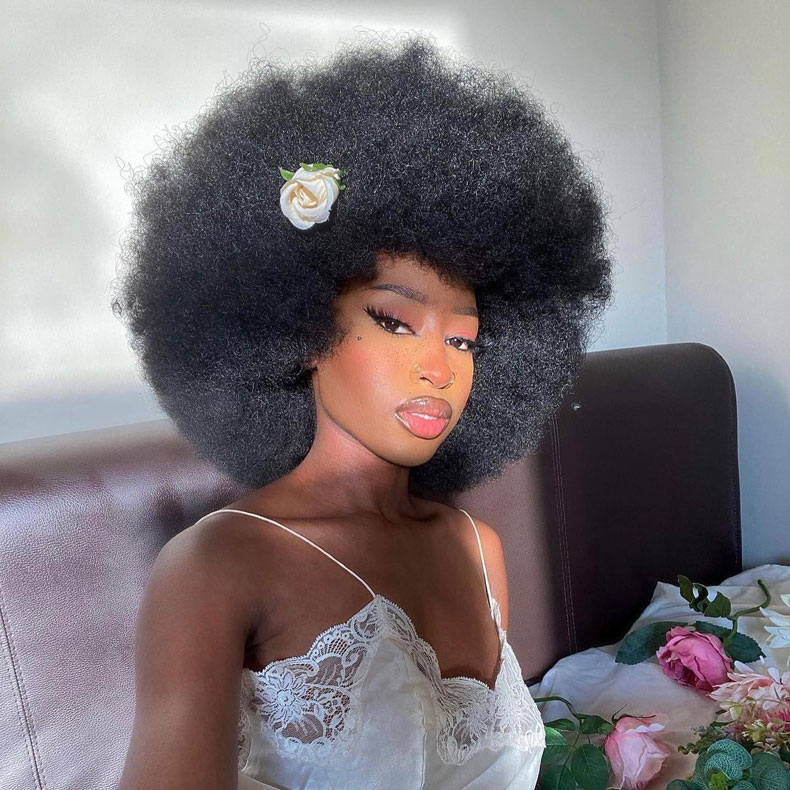 How to take care of 4C hair?
Proper care and TLC can also stretch out your 4C hair. Here are some tips and tricks for 4C hair daily routine:
Using a wide-tooth comb or your finger to detangle your 4C hair instead of using a metal brush. If you have enough budget, invest in a plastic or nylon detangle brush that is specially designed for 4c hair. This type of brush keeps the tight curly shape and massages the scalp to provide 4C hair growth. Detangle your 4C hair gently without causing too much stress or damage to the hair. Start at the ends of your hair and slowly work your way up to the roots. It's recommended to detangle 4C hair at least twice a week, once before shampooing and once after conditioning. You can even brush it per day if you have time.
Detangle your hair with a wide-tooth comb or your fingers before washing it. Then, wet your 4C hair thoroughly with lukewarm water. Apply a sulfate-free shampoo to your scalp and hair, and massage gently to remove build-up. Rinse the shampoo out thoroughly, making sure to remove all traces of it. Absorb the excess water with a piece of a soft towel. Apply a moisturizing conditioner to your hair, starting from the ends and working your way up to the roots. Leave the conditioner in for 5-10 minutes to allow it to penetrate your hair. Rinse the conditioner out thoroughly and squeeze excess water out of your hair. Finish by gently blotting your hair with a soft towel and then air dry or use a hairdryer on a low heat setting to dry your hair. Since 4C hair is highly susceptible to dryness, you can also rub leave-in conditioner or light oil to seal the moisture after washing.
Regularly wash your 4C hair but no more than twice a week, as frequent washing can also striping hair of natural oils.
Opt for gentle products for daily hair care routine, such as sulfate-free shampoo. This type of shampoo helps to avoid stripping the hair of oils.
Deep condition your 4C hair once or twice a week to add extra moisture to your hair. Allow the conditioner to sit for a while so that it can hydrate more deeply.
Applying a leave-in conditioner or light oil can help to seal in moisture and minimizes knots.
Try to avoid using heat-styling tools like flat irons or curling irons, as these can cause more tangles and breakage.
While applying heat to your 4C hair, set your heat tools at the lowest temperature and spray a heat protector on your hair in advance to create an extra barrier.
Go for protective hairstyles that don't involve heat and chemicals, and hairstyles that put minimize or no tension on your scalp. Such as bob, ponytail, bangs, buns, Bantu knots, braids, etc.
Avoid sleeping with wet hair. If your hair is wet, it's more prone to breakage and tangling, so it's best to air-dry your hair or set the hair dryer at the lowest heat setting to dry it gently before going to bed.
Braid or twist your hair into sections can help to prevent tangles and breakage while you sleep and maintain the beautiful curls of 4C hair.
Apply a small amount of leave-in conditioner to your 4C hair before going to bed to help add moisture to your hair and reduce the risk of breakage.
Sleeping on a satin or silk pillowcase can help prevent tangles and breakage overnight.
7 Protective hairstyles for 4C hair
1. Cornrows:
Cornrows are a classic protective style that can be worn for weeks on end. This style doesn't require heat styling, which reduces the risk of heat damage and promotes healthy hair growth. What's more, they are low-maintenance and allow you to keep your hair protected while giving it a break from the daily wear and tear of styling.
2. Braids:
Braids are another great protective style for 4c hair. This hairstyle can not only protect your hair from daily wear but is versatile and long-lasting. You can go for simple box braids, or try more intricate styles like cornrow braids, fishtail braids, or French braids. Additionally, braids are low maintenance and require minimal styling, making them a convenient option for busy girls.
3. Crochet Braids:
Crochet braids are a great option for those who want the protection of braids but don't want the commitment. They are low maintenance and easy to style, making them a convenient option for busy people. With crochet braids, you can have a wide range of styles, textures, and lengths to choose from, allowing you to switch up your look frequently. By the way, you can opt for synthetic hair for a temporary protective style or for human hair for a longer-lasting look while choosing hair extensions for crochet braids.
4. Wigs:
Wigs are a convenient way to protect your hair and switch up your look. Wearing a wig on 4C hair helps to protect natural hair from harsh environmental factors such as heat, UV, and chemicals. This helps to reduce breakage, split ends, and damage to the hair. What's more, wigs are easy to wear and take off, which makes them a convenient option for those who are always on the go. There are a variety of wig styles to choose from, including lace front wigs, U-part wigs, and full lace wigs. Visit UlaHair online hair store to explore high-quality human hair wigs!
5. Weaves:
Weaves are another popular protective style that can be installed in a variety of ways, including sewn-in, bonded, and glued-in. You can opt for human hair or synthetic hair, but human hair extensions always provide a more natural appearance and a longer lifespan than synthetic hair. Weaves are a great way to give your hair a break from heat styling and daily styling. What's more, weaves are also easy to pack and travel with, making them ideal for those who like to change their hairstyle on the go.
6. Bantu Knots:
Bantu knots are a type of hairstyle originating from the Bantu people of Africa. The style involves twisting and knotting small sections of hair into tight spirals and securing them to the scalp, creating a unique pattern of knots. Bantu knots are commonly used for protective styling.
They are a simple, low-maintenance protective style that can be done in an hour or less. They're great for keeping your hair protected for a week or longer and well maintain beautiful curls. Bantu knots have become popular among African American women for a quite long time and still.
7. Twists:
Twists are another great protective style for 4c hair. This style helps to protect 4C hair from breakage and damage caused by heat and harsh chemicals of daily styling. What's more, twisting hair can also retain moisture in 4C hair. You can opt for two-strand twists or larger Senegalese twists, depending on the look you want. They're low-maintenance and can be worn for a week or longer.
Related Posts:
6 Protective Hairstyles Recommended For 4C Hair
8 Chic & Classy Lace Frontal Wig Hairstyles For Black Women