How To Braid Hair Using Human Hair Extensions?
It is no longer news that human hair is making waves in the hair world, ranging from human hair extensions to human hair wigs. In recent times, stylists have started using human hair to braid hair. We know the question on your mind is "how do they do that?" Well, we will give you a step-by-step guide on how to braid hair with human hair extensions in this article. But before then, let's look at the pros of braiding hair with human hair extensions.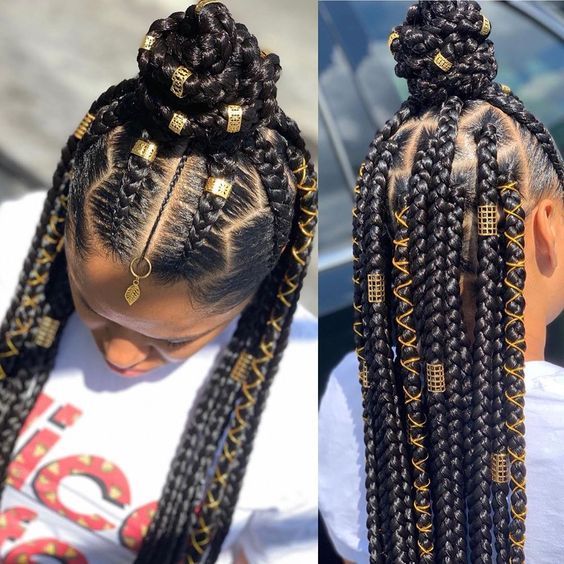 What are the benefits of braiding hair with human hair extensions?
Human hair extensions are extensions made from hair sourced from humans. So, they feel and act like your natural hair. Here are some of the reasons why people braid with human hair extensions:
They are lightweight and natural-looking
One essential advantage of human hair extensions is that they are lightweight. Hence, they do not add unnecessary tension to your natural hair. Besides, they make your braid look so natural. Thus, other people might not know that you use extensions.
They last longer and can be reused
Human hair extensions last longer than synthetic extensions since they are more natural-looking. Besides, unlike synthetic ones that become rough when you use them once, you can reuse human hair extensions.
Unlimited styling options
You can opt for different styles when it comes to human hair extensions. For instance, you can decide to change the color of your extensions. You can even use heat styling tools on them to change their texture.
Where can you get braiding hair extensions?
You can get human braid hair extensions at Ulahair. When shopping for human braid hair extensions, make sure to be on the lookout for bulk hair. Bulk hair is hair that is not sewn into the weft. At Ulahair, we have different textures of bulk hair. You can opt for straight, curly, or wavy bulk hair depending on your preference.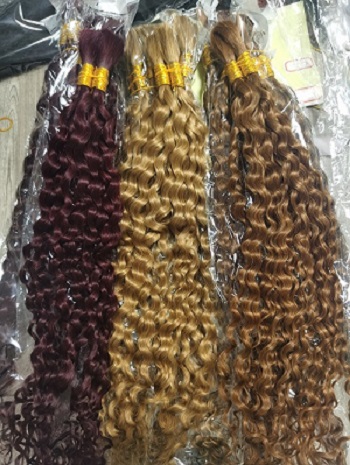 How to braid hair using human hair extensions
Now that you know some basic things about braiding hair extensions, let's discuss how to braid hair. Here is a step-by-step guide on how to braid hair with extensions:
Step 1: Prepare your hair
First and foremost, you need to prep your hair. To get the most out of your braid, you should shampoo and condition your natural hair. Use moisturizing shampoo and conditioner to keep your hair hydrated. Your braid will last for a while on you, and you might not be able to condition it regularly. So make sure you deep-condition it. After washing and moisturizing, you should use a microfiber towel to blot out excess water on your hair and leave it to air dry. If you want to dry with a blow dryer, ensure you use a heat protector and set the heat to the lowest setting.
Since you are using human hair extensions, you have to treat them the same way as your natural hair. So, you should shampoo and condition it as well before using it. However, make sure to follow the washing instructions on the package. After washing, you should air dry it. Pull the strands apart by about 1 inch so that the extensions will dry faster.
Step 2: Section your hair
Section your hair into about four parts, depending on how dense your natural mane is. Two sections at the front and two at the back. Then secure each section with an elastic band or sectioning clips. Move to one of the sections at the back, starting from the nape of your neck, and section out about 1 inch or 1¼ inches of your hair. This is where you will braid. If you want the braid to be thick, you can make it about two inches, or make it smaller for micro braids.
Step 3: Attach extensions and braid
Grab the human hair extension and take out the bit you will use to braid your hair. Make sure that the amount of extension you grab is the same as the size of the hair you part out. If the extension is much larger than the hair, the braid will look bulky and uneven. And if it is smaller than the hair, it will look lumpy. To avoid these discrepancies, make sure the size of the extension matches that of your hair.
The next thing to do is to form a candy shape with the braid hair extensions. Make sure the loop is about 1.5 to 2 inches wide. Then, hook your natural hair through the loop. This way, your natural hair will be between the braiding hair extensions. Move the extension close to your scalp and hold it firmly against your hair. But make sure it is not too tight so as not to add tension to your mane. Then gently pull your natural hair over the extension on the right, then pull the one on the left to the middle. Continue moving the extension and your natural hair in a crisscross manner. Continue braiding your natural hair until you are done.
Then, continue braiding the extensions until you reach the end. Because it is a human hair extension, it does not have the thin ends that synthetic ones have. So, you will have to knot it at the end to secure it. On the other hand, you can use nail glue to secure the end of your braid. And that's it! You have successfully braided with extensions.
Step 4: Style as desired.
Now that you have braided your hair, you can style it as you want. Trim off any flyaways that you might see in your braid. If the bulk hair you bought is wavy or curly, you will have to wet the braid to activate the curls. After that, you might want to apply some hair mousse to it. You can add beads or any other hair accessories to enhance your look.
Here is a video tutorial about how to create a braiding style with hair extensions:

We have made detailed tutorials in our previous post: Easy Protective Hairstyles For 4C Hair, click and explore!

Final Thoughts
Braiding with human hair extensions might seem tricky. But it is just as easy as using synthetic extensions. Using the steps mentioned in this article, you will be able to achieve the most gorgeous braid hairstyles with hair extensions. At Ulahair, we sell 100% human hair extensions that are lightweight and natural-looking.
Related Posts:
How to get highlight look with tape in hair?
5 Chic & Quick ways to wear box braids