Wig Length Guide: 22 Inch Wig Length
Wigs have become a popular way to transform looks and express individuality. Choosing the right wig length is essential for achieving the desired style. Among the various options, the 22-inch wig stands out as a favorite choice for many. Its captivating versatility and graceful allure make it an ideal option. In this article, we'll guide you on measuring wig lengths accurately and factors to consider when choosing the perfect wig length. Additionally, we'll compare 22-inch hair with other popular lengths, showcase top-selling options at ulahair.com, and share some chic long hairstyles for 22-inch hair. Keep scrolling to discover your perfect wig length!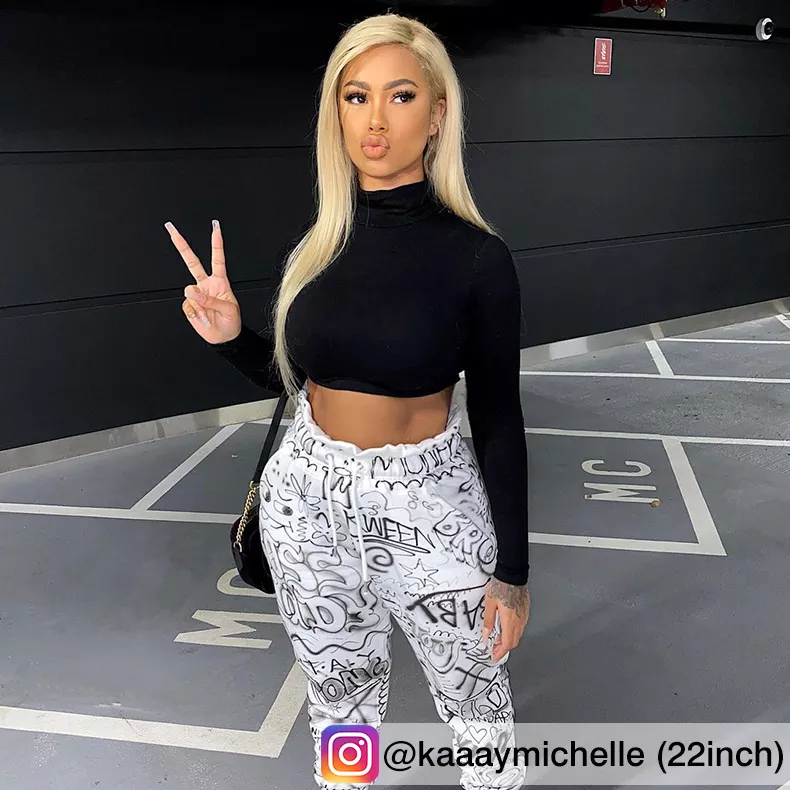 How long is 22-inch hair?
A 22-inch wig measures approximately 56 centimeters in length, making it a versatile choice for many. On an average individual, this hair length falls below the shoulders, typically reaching the upper to mid-back area. The beauty of the 22-inch wig lies in its adaptability, allowing wearers to opt for a chic shoulder-length look or a stunning longer style. Whether you seek a sophisticated, shoulder-grazing style or a mesmerizing, longer look, the 22-inch hair length offers a perfect balance, making it a beloved choice among wig enthusiasts worldwide.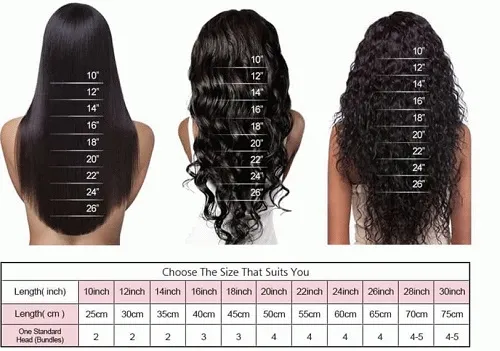 How to correctly measure a wig length?
Measuring the length of a wig accurately is crucial to ensure the perfect fit and desired style. Follow this step-by-step guide to measure your wig length correctly:
Prepare the Wig: Lay the wig flat on a smooth surface, ensuring that it is free from any tangles or knots. Smooth out the hair, so it lies naturally.
Find the Crown: Locate the crown of the wig, which is the highest point on the cap where all the hair comes together. This is typically at the center of the wig's top.
Use a Measuring Tape: Take a flexible measuring tape and hold one end at the crown of the wig.
Measure to the Ends: Gently pull the measuring tape down the length of the hair, following the natural flow, until you reach the ends. Make sure to keep the tape straight and taut for an accurate measurement.
Record the Length: Note the measurement in either inches or centimeters, depending on your preference. This measurement represents the length of the wig.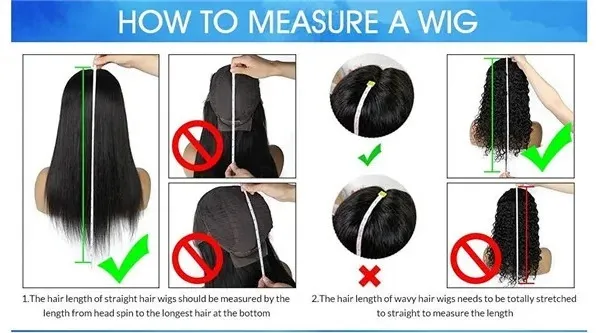 Tips for Accurate Measurements:
Measure Twice: To ensure precision, measure the wig length at least twice. If you get slightly different results, take the average of the measurements for the most accurate length.

Use a Mirror: If you are measuring a wig while wearing it, use a handheld mirror to view the back of your head. This will help you find the crown point easily.

Straighten the Hair: Before measuring, ensure that the wig's hair is straight and not styled in a way that alters its natural length. Flatten any curls or waves to get an accurate measurement.

Avoid Pulling the Hair: Be gentle when measuring the length to avoid stretching or pulling the hair. This can lead to inaccurate measurements and affect the wig's appearance.

Measure from the Crown: Always start the measurement from the crown point and continue down to the ends. Measuring from the nape of the neck or cap base will not provide the correct wig length.
Importance of Measuring from the Crown to the Ends:
Measuring from the crown to the ends is essential because it gives you the true length of the wig when it's worn. This measurement takes into account the hair's full length, including any layers or tapering that might be present in the wig's style.
Common Measurement Mistakes to Avoid:
Measuring Curved Hair: Don't follow the hair's curves or arcs when measuring; instead, keep the tape straight along the hair's flow for accurate results.

Including Cap Length: The wig's cap or the portion that sits on your head should not be included in the measurement. Focus solely on the hair length.
By following these steps and tips, you can confidently measure your wig length accurately, ensuring a perfect fit and the style you desire.
What wig length should you get?
Choosing the right wig length is a pivotal decision that can greatly enhance your overall appearance and boost your confidence. Several essential factors come into play when selecting the perfect wig length, including face shape, body type, and personal style preferences. Let's explore these factors and provide a helpful wig length guide to ensure you make an informed and flattering choice.
Factors to Consider when Choosing the Right Wig Length:
1. Face Shape:
Oval Face: Lucky enough to have an oval face? Almost any wig length will suit you! Opt for a length that complements your style and showcases your best features.

Round Face: To elongate and slim your face, choose longer wig lengths that go beyond your chin. Soft layers and side-swept bangs can also create a more balanced look.

Square Face: Soften strong jawlines with medium-length wigs that fall just below the jaw. Curly or wavy styles can add a touch of femininity to square faces.

Heart-shaped Face: Balance a narrower chin with chin-length or shoulder-length wigs. Layers and wispy ends can create a flattering frame around the face.
2. Body Type:
Petite Build: If you have a petite frame, consider shorter wig lengths that won't overwhelm your stature. Chin-length bobs or shoulder-length styles work well for a proportional look.

Curvier Figure: Longer wig lengths can complement curvier body types. Wigs that fall around the mid-back create an elongated silhouette, balancing your curves beautifully.
3. Personal Style Preferences:
Casual and Low-Maintenance: If you prefer a fuss-free style, opt for shorter wig lengths like pixie cuts or bobs that require minimal styling.

Glamorous and Versatile: For those who enjoy versatility, medium-length wigs that reach the shoulders offer various styling options, from elegant updos to flowing waves.
Remember, personal preferences always come first. While these guidelines can steer you in the right direction, the most important thing is to choose a wig length that makes you feel confident and beautiful.
22-inch hair vs. 20-inch hair vs. 24-inch hair
Wigs come in various lengths, and each length offers a distinct look and feel. Let's compare the 22-inch hair with two other popular lengths, 20 inches and 24 inches, to understand their visual differences and how they can complement different styles.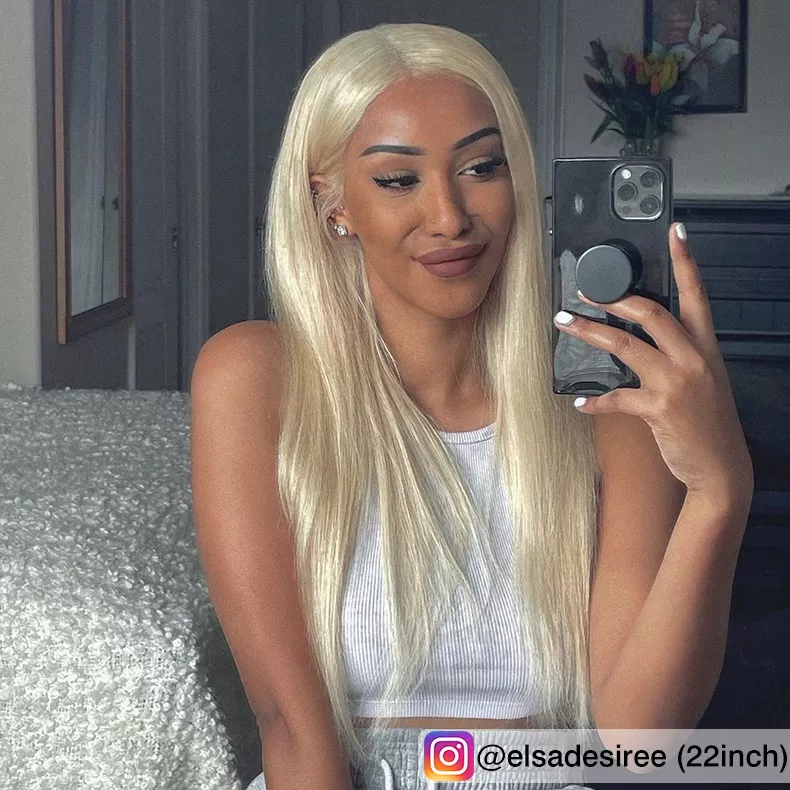 22-Inch Hair:
The 22-inch hair length falls below the shoulders, typically reaching the upper to the mid-back area on an average individual.

This length exudes grace and charm, striking a balance between being long enough to make a statement and manageable for everyday styling.

22-inch hair is versatile and suits various face shapes and body types, making it a popular choice for many wig wearers.

It allows for beautiful hairstyles like long waves, voluminous curls, and stylish updos, offering a captivating and sophisticated appearance.
20-Inch Hair:
The 20-inch hair length typically reaches the mid-back or slightly above the mid-back area, making it a touch shorter than the 22-inch length.

This length offers a youthful and chic look, perfect for individuals seeking a style that is not too long yet provides grace and movement.

20-inch hair is well-suited for those with a petite frame or those who prefer a slightly more manageable length.

It works beautifully for casual outings, professional settings, and special occasions, offering a stylish and flattering appearance.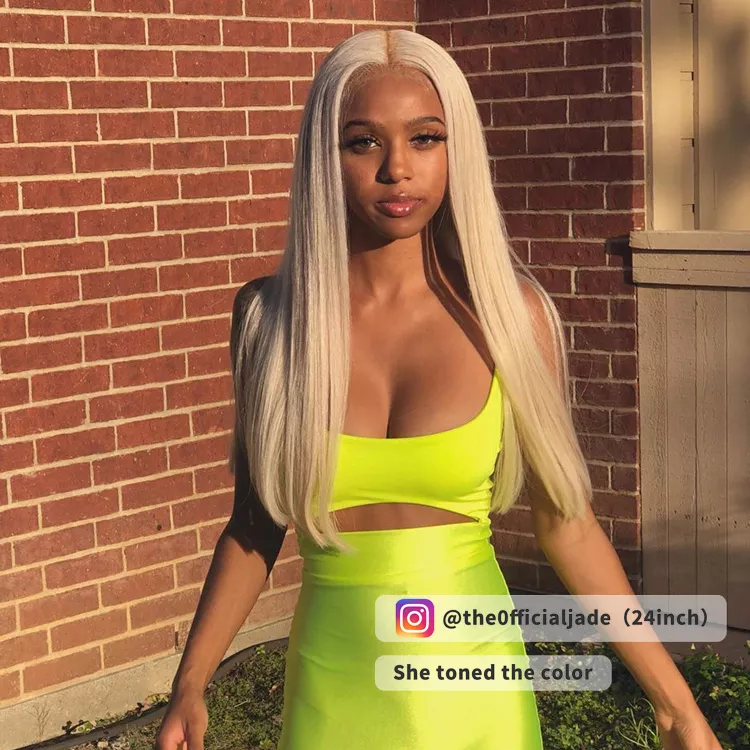 24-Inch Hair:
The 24-inch hair length extends beyond the mid-back area, falling towards the lower back or waist region on an average individual.

This length exudes a mesmerizing and dramatic appeal, creating a striking and eye-catching look.

24-inch hair is ideal for those who desire a luxurious and bold statement, perfect for formal events and glamorous occasions.

It can provide an ethereal and romantic appearance, especially when styled in flowing waves or cascading curls.
Visual Differences and Complementary Looks:
22-inch hair strikes an ideal balance, making it suitable for various face shapes and occasions while remaining easily manageable.

20-inch hair offers a youthful and chic appearance, well-suited for those who desire a touch of sophistication without overwhelming length.

24-inch hair exudes drama and luxury, perfect for making a bold statement and creating a captivating, enchanting look.
When selecting the ideal wig length, consider your personal style preferences, the occasion, and how the length complements your facial features and body type. Each length brings its unique allure, and by understanding these differences, you can confidently choose the perfect wig length to enhance your overall appearance and confidence.
5 Chic long hairstyles for 22-inch hair
1. Classic Hollywood Waves
Achieve a timeless and captivating look with classic Hollywood waves. These luxurious, cascading waves add glamour and sophistication to any look. Use a curling iron or hot rollers to create soft, large curls, and gently brush them out for a smooth, wavy finish. This hairstyle complements formal events and red-carpet occasions, evoking a vintage Hollywood charm.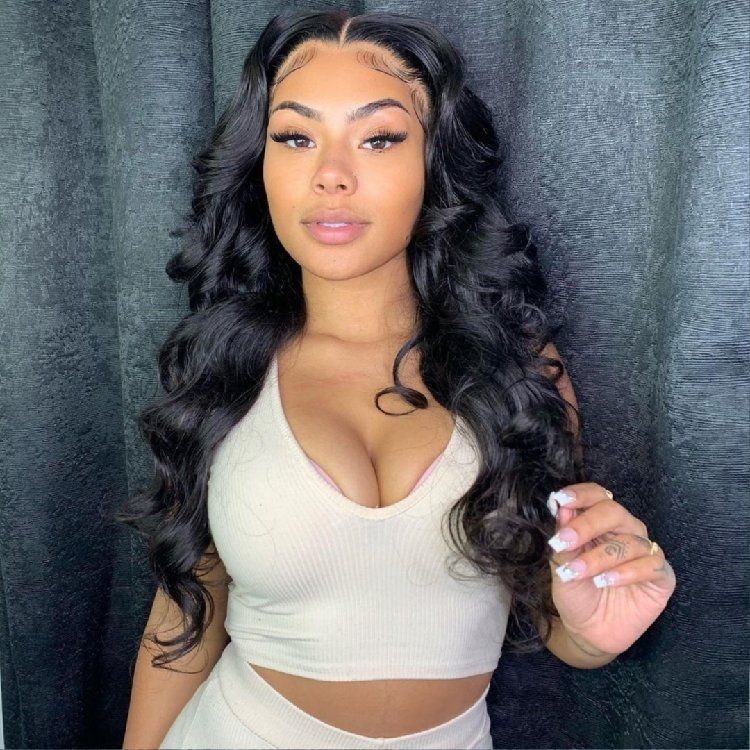 2. Messy Boho Braids
For a bohemian and effortlessly chic vibe, opt for messy boho braids. Part your hair in the middle and create two loose and textured braids on each side. Pull out a few strands to frame your face and add a carefree touch. This hairstyle is perfect for festivals, casual outings, or when you want to channel your inner free spirit.

3. Sleek and Straight
Keep it sleek and polished with straight, glossy locks. Use a flat iron to achieve a smooth finish, and apply a shine-enhancing serum for added luster. This versatile hairstyle works well for both casual and formal settings, giving you a sophisticated and chic look that never goes out of style.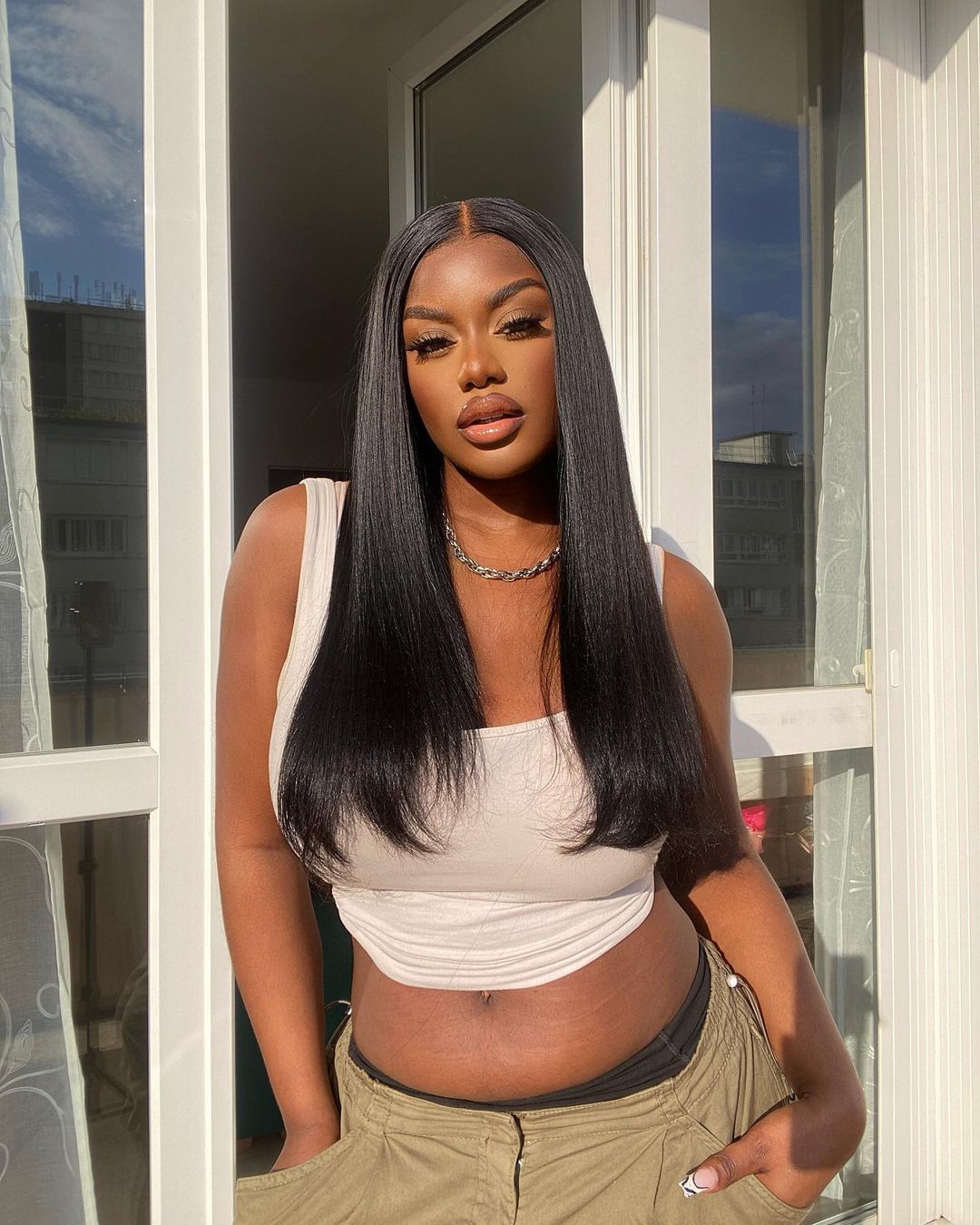 4. Voluminous Half-Up Half-Down
Enhance your 22-inch hair's volume and beauty with a voluminous half-up half-down style. Tease the crown for added lift and gather the top section of your hair into a half-up ponytail. Leave the rest of the hair down to showcase its length and flow. This hairstyle is ideal for date nights, parties, or any occasion where you want to look effortlessly alluring.

5. Romantic Updo with Twists
Create a romantic and intricate updo with twists and braids. Gather your hair into a loose low bun and secure it with bobby pins. Leave a few face-framing strands loose for a soft and feminine touch. This hairstyle is perfect for weddings, formal events, or when you want to embrace a fairytale-inspired look.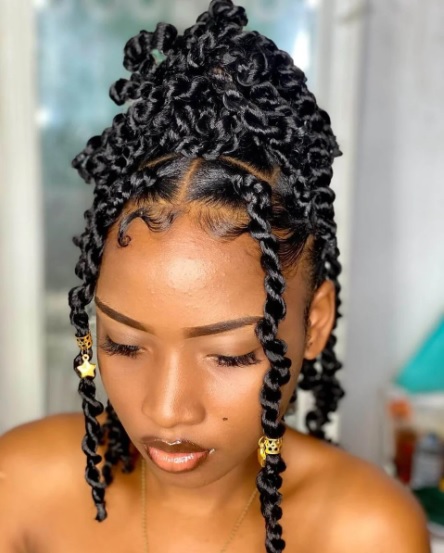 With 22-inch hair, you have the freedom to explore a wide range of chic and glamorous hairstyles. Whether you prefer the timeless allure of Hollywood waves, the carefree spirit of boho braids, the sleek sophistication of straight locks, the voluminous charm of a half-up half-down style, or the romantic flair of a twisted updo, these stunning hairstyles are sure to complement your 22-inch hair and elevate your overall look. So, go ahead and try these chic hairstyles to express your unique style and grace.
Conclusion
In this article, we have explored the world of 22-inch wig length and its significance in choosing the perfect wig. We learned how to measure wig length accurately and discussed various factors to consider when choosing the right length. It's essential for readers to embrace their preferences and needs to find a wig length that complements their unique beauty and style. Whether it's the allure of 22 inches, the chic appeal of 20 inches, or the drama of 24 inches, there's a perfect length for everyone. Ula Hair encourages all wig enthusiasts to embrace their unique style and confidence through the transformative power of hair. Whether it's 22 inches or any other length, each choice presents an exciting opportunity to express individuality and radiate beauty. Discover 100% human hair wigs and human hair extensions in various lengths at Ula Hair and embrace your unique style!
Related Posts:
Gorgeous Hairstyles For 14-Inch Hair
Wig Length Guide: 24-Inch Wig Length