Gorgeous headband wig styles 2022
Gorgeous headband wig styles 2022
Do headband wigs still in style in 2022?
Headband wigs are still one of the most sought-after styles in 2022. It's an easy style that requires no glue and no skill to put on, a perfect style for busy girls and lazy girls. It's such a classic wig style that will never run out.
In this post, we are going to share with you summertime chic headband wig styles and some tips about caring for a human hair headband wig.

Gorgeous headband wig hairstyles
I'm going to show you five styles that you can easily do with a headband wig by yourself. So you can use it working out, dating, or running around the house if you like.
Separate the hair into two sections and pull the above section and tie it up with a hair tie.

Part the top half of the hair at your temples and pull it into a high ponytail. Twist your ponytail to make it coils into a bun, and secure it with a hair tie.

Part the top half of the hair down the center, Twist one side of the part into a bun and secure it with bobby pins. And then repeat to make a bun on another side on the top.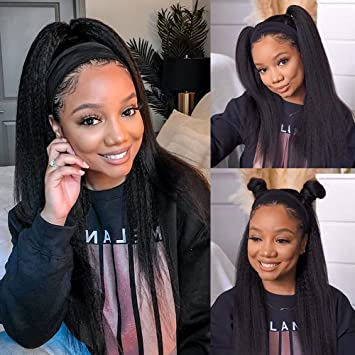 Pull all the hair back and put the hair into a neat ponytail. Finally secure with a hair tie.

Pull all the hair strands on the top to make a high ponytail. Twist it into a bun and secure it with a hair tie. Bring some hair out through the headband on the front to create a bang.

How to wash a headband wig?
Step 1: Prepare your wig
Brush the headband wig with a wig brush or a wide-tooth comb before washing the wig. This can help to loosen dirt and knots.
Step 2: Shampoo the wig
Rinse the wig with warm water. Apply some sulfate shampoo into the wig evenly. Rub the hair with your fingers gently. Don't forget to wash the headband. Finally, rinse out hair thoroughly from roots to tips to remove the shampoo.
Step 3: Condition the wig
Soak up water with a soft towel. Apply some hair conditioner to the hair evenly. Rub the hair gently with your finger so that the conditioner can soak thoroughly into the wig. Let the conditioner sit for a while for about 10-15 minutes if you are not in a hurry. Be noticed that you don't need to condition the headband. Rinse out the wig thoroughly again.
Step 4: Dry the wig
Wrap the wig with a soft towel to absorb excess water. And it's highly recommended to set the wig at a wig stand and let it air dry. Of course, if you are in a hurry, you can choose to blow it dry with the lowest heat setting.
Step 5: Nourish the wig
Apply a small amount of natural hair oil (coconut oil or Moroccan oil) to nourish the hair. Rug the hair to make the hair oil completely soak, so that its texture is silky and bouncy.
How to care for headband wigs?
Tip 1: Avoid applying overmuch heat or harsh chemicals while styling a wig.
Tip 2: Set the wig on a wig stand while you don't need to put it on.
Tip 3: Avoid sleeping with your headband wig on. The friction between the pillow and the hair can easily dues to tangle and frizzy.
Tip 4: Shampoo and condition your headband wig regularly. We suggest you shampoo and condition your wig once two weeks.
Tip 5: Brush the wig regularly to make it tangle-free, especially before washing the wig.
Headband wig FAQ:
Q: How long does the headband wig last?
A: The lifespan of a 100% human hair headband wig is about 1-2 years with proper care. As for how often you should remove the headband wig? We suggest you remove the wig every day at night when you sleep.
Q: Can you wear a headband wig every day?
A: Yes, of course. The headband wig is versatile in styling. You can wear it every day and rock all styles you desire.
Related Posts:
All you need to know about the sew-in wig!
HD lace wig | All you need to know
All you need to know about the T part wig!