Does sew-in grow your hair?
Does sew-in grow your hair?
What is sew in hair?
Sew in hair is a process to braid your natural hair into cornrows and sew hair weaves or hair extensions into your braided hair to add length and volume to the hair.
Sew in hair is more secure than wearing a wig. You always don't need to worry about your sew-ins will slide off no matter if you are swimming or clubbing.

Does sew-in hair hurt?
Actually, no matter whether you choose to wear a wig or sew-in hair, improper installation and care can also damage your natural hair. Avoid sewing too tight, wash and condition it regularly, and take it off in time, sew in hair will not bring damage to your natural hair but helps to grow your natural hair. It is a protective way to switch up your hairstyle.
Sew in weave pros and cons
Pros:

Protective style: Sew in hair is a protective style that allows your natural hair to breathe freely.

Secure: If you want the hair lay down the same way every day, sew-ins are a more secure and safe option for you.

Breathable: Sew in hair can give your scalp a break.

More time-saving: With a sew-in, you don't need to reinstall the hair every morning. 

Cost-effective: Sew in weave has a longer lifespan and can be reused, which makes it a cost-effective option in the long run.
Cons:

Need assistance: Sewing hair extensions is a complicated and draining process, it's hard to complete the whole process by yourself. You may need to ask for help from the stylists or your friends.

Not suitable for those who have bold hair: Sew-in hair is to sew in hair weave or hair extensions into your natural hair, which does bring some stress to the natural hair. Therefore, if you have weak hair or bold hair, sew in hair is not a healthy choice.
How to sew in hair?
To protect your natural hair and prolong the lifespan of sew-in hair, we highly suggest you go to a salon and sew in hair by a professional. If not so, you'd better ask for assistance from your mom or your friends.
Step 1: Prepare your natural hair
Shampoo and condition your natural hair thoroughly. Blow it dry thoroughly with a hairdryer at the lowest heat setting. Detangle your natural hair with a comb.
Step 2: Section out your leave out
Part your hair and leave about one inch on each side so that it can cover the tracks. You can only leave out the area where you're going to have your part. You can leave out the parting area and around the perimeter or around the hairline.
Step 3: Braid cornrows
Section the rest of the hair and braid it into horizontal cornrows until you finish the head braiding. Be noticed that avoid braiding it too tight or too loose and make the cornrows as flat as possible. If you have long braids, you can stuff the excess braids into the gap between the braids and use some clips to pin them down, and make them as flat as possible.
Step 4: Sewing hair weave
Start at about 0.5-1 inch near your leave-out, and grab the hair weave to go around your head. Use bobby pins to fix each end of the hair weft. Use thread and needle to sew in hair weaves. Once you reach the end of the first row of sew-in, fold the hair weft up and continue to sew in the next row. Continue to sew in until you finish a full head sew-in. Typically, a full head sew-in requires 2-4 bundles, if you desire a fuller look, you can pick 4 bundles. If you desire a more lightweight and comfortable hair look, 2-3 bundles are enough.
Step 5: Undo your leave out
Undo your leave out hair to cover the tracks. Use a wide-tooth comb to comb the hair, so that the hair strands can blend well with your natural hair.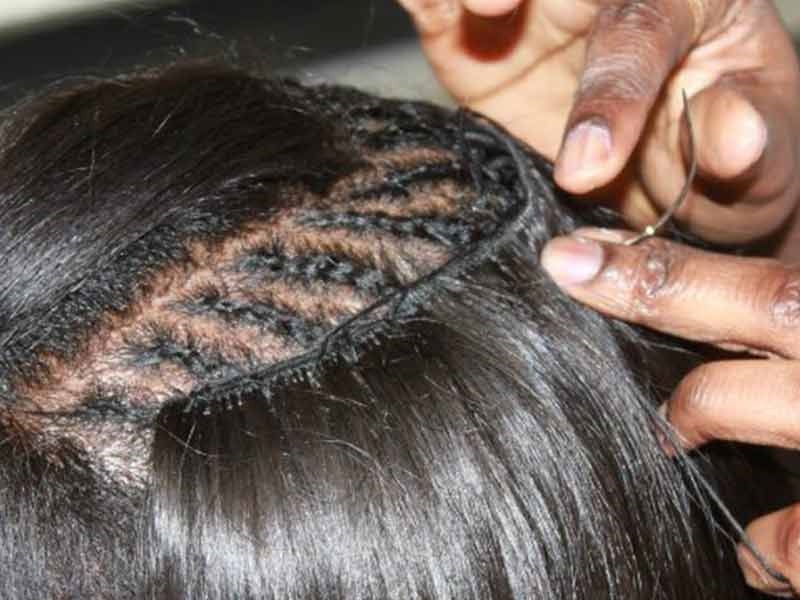 Where to buy sew-in hair extensions?
Ula Hair provides the best human hair extensions for sew-in. You can choose from Brazilian hair, Malaysian hair, Peruvian hair, and so on. Multiple colors, lengths, and patterns are available. All are made of 100% virgin human hair, soft, silky, textured, and can be dyed, colored, straighten or curl as you desire.

Sew in hair FAQs:
Q: How long can a sew-in stay in your hair?
A: Typically, sew-in weaves can last about 6-8 weeks on one's head with proper installation and care. It's highly recommended to take them off and give your natural hair a break every 2 months at least.
Q: Can you wash the sew-in weaves?
A: Sure, you should wash and condition your sew-ins once every two weeks. We highly suggest you pick a sulfate-free shampoo and conditioner for your sew-in weaves.

Related Posts:
All you need to know about the sew-in wig!
How many bundles of hair for sew in?
Different types of lace closures