5 Chic Blonde Wigs You Shouldn't Miss This Year
Happy new year! 2023 is now arriving. It's time to switch up your hairstyle. The honey blonde hair is a blending of blonde and light yellow that create a stunning hair shade. Honey blonde hair is luxurious and versatile in styling. You can rock this honey blonde trend in an ingenious highlight or ombre style, or dye your whole head a bright blonde that will never be unnoticed.
The honey blonde wig is one of the most sought-after human hair wig styles in 2022. There are tons of honey blonde wigs in a variety of dazzling textures and styles. We are gonna share 5 gorgeous blonde hair ideals for a change-up this year.

What is honey blonde hair?
Honey blonde hair comes in a hair color that perfectly blends warm blonde and light brown. This hair color perfectly complements all skin tones. This bright and shiny shade has gained a lot of fans, especially among black girls.
What is the difference between honey and golden blonde?
Honey blonde and golden blonde are very similar. Compared with golden blonde hair, the undertone of honey blonde hair tends to have more red and brown tones, which makes it look more flattering on black skin. The honey blonde color will brighten your features and add dimension.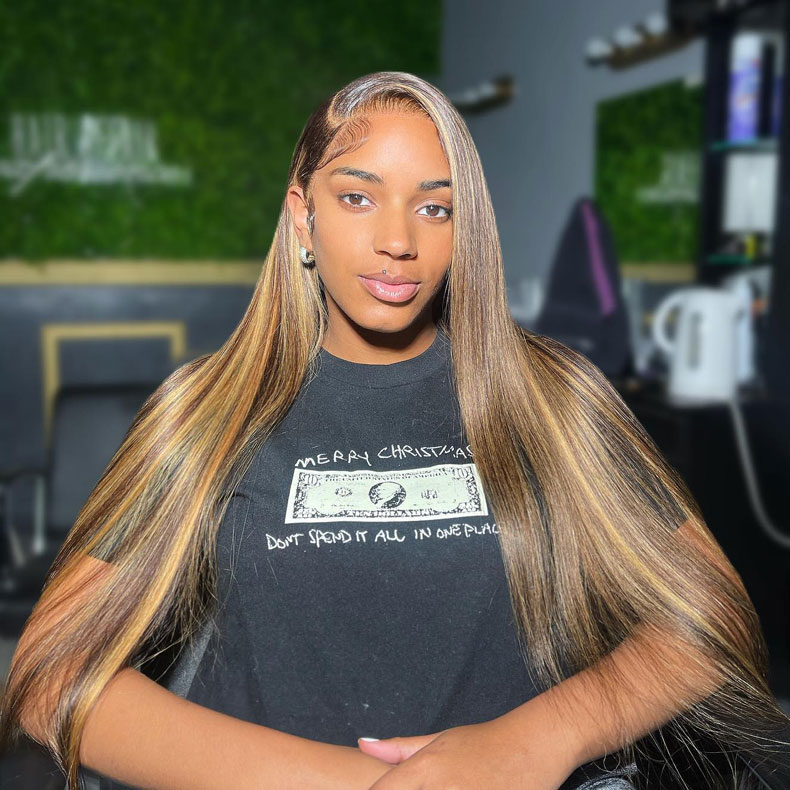 Benefits of honey blonde hair
Honey blonde hair looks chic and shiny: Most young girls are captivated by this shade of blonde hair. It's one of the most popular hair colors among black girls.
Versatile in styling: Blonde hair provides endless possibilities for styling. 613 Blonde hair is a light color that can be dyed into any lighter shade.
Unique and chic: Blonde hair color looks gorgeous on light and medium-dark skin tones. It works to make black girls' hair look thicker and healthier while adding a stylish and personalized touch to their whole look. The blonde hair shade is also an ideal option for those who desire a bold and chic hair color.
5 chic blonde wigs you shouldn't miss out
Ula Hair offers blonde hair bundles with closure, blonde lace frontal, blonde lace closures, and blonde human hair wigs at an adorable price. What's more, our honey blonde wigs are all made with cuticle-aligned human hair, soft, silky, bouncy, and can last for a long time. Welcome to browse the best human hair wigs and human hair bundles at Ula. And choose from various colors, lengths, and textures.
It's so beautiful and chic to have sun-kissed honey blonde hair, which always makes girls look more attractive and confident. If you are considering buying a personalized wig to create a head-turning look that will never be unnoticed, I think you should not miss these honey blonde wigs. We are here to list our top-selling honey blonde wigs so that you never get lost.
Honey blonde highlights hair
This honey blonde highlight wig is made of 100% human hair, which is soft and silky in texture. It comes in a bob style, and can perfectly match all occasions and clothes. This 13x6x1 lace front wig provides wearers with a melted hairline and a natural-looking appearance. What's more, it's also wallet-friendly, an ideal option for those who desire cheap human hair lace wigs.

Honey blonde deep wave wig
This honey blonde deep wave wig has been pre-plucked. It appears natural and full. The lace front can melt into the scalp and create the illusion that hair strands are growing from your scalp.

It looks so cute and chic with the 613 bob wig. We highly recommend this 613 bob wig for those who want to dye in rainbow colors. This 613 wig comes in a light shade, so you don't need to bleach anymore, which is more time-saving. Our 613 blonde wig features 100% virgin hair that is textured, durable, and has a natural gloss, with no shedding and no tangling.

Blonde wig with dark roots
With a grading effect, this blonde wig with dark roots blends seamlessly with black skin tones. This blonde hair with black roots looks beautiful and feels like silk. It's an ideal option for those who desire to rock a bright and light style. This blonde frontal wig features a ton of parting space, making it easy to achieve different looks.

Straight blonde lace closure wig
This bold blonde straight wig is the most classic style at Ula Hair. It comes in a high density and looks full and thick. With its versatility in styling, it's possible to rock rainbow colors, ombre, or highlight styles.

These honey blonde wigs can save you time and protect your hair from the bleaching process. In addition, they modernize your look and provide head-turning bold, and sexy looks. Refresh your look and boost your charm without bleaching with honey blonde wigs this year!
Related Posts:
6 Protective Hairstyles Recommended For 4C Hair
How to get highlight look with tape in hair?
5 Chic & Quick ways to wear box braids