Best Weave Hair For Sew-in
Best Weave Hair For Sew-in
Sew-in is the safest and long-lasting way for those who desire to expand and full their hair look. It has earned a great number of fans around the world, especially among South African women. So what exactly sew in hair is? How to choose the best hair for sew-in? Can you sew in hair by yourself at home? What do you need to pay attention to to do so?
Keep scrolling, we are going to solve all your confusion about sew in hair in this post.

What is sew-in hair?
Sew in hair is the process to braid the hair into cornrows and then sew in hair extensions to the braids to add length and volume to the hair.
Benefits of sew in hair:
Add length and volume: Sew-in hair always works to add length and volume to your hair. They can conceal the thinning area where you need to make it look full as you desire.
Seamless and natural results: Sew-in weave with closure or lace front, or sew in with leave out, can definitely bring you a natural and luxurious hair look.
Easy to manage: Since the hair weaves are firmly sewn in your natural hair, so you don't need to worry that would slide off. And you can treat your sew-in weave as you normally would.
Safe and healthy way: The sew-in process requires no glue or heat. And it also provides great breathability for your scalp. These make it a safe and healthy way to level up your hair look.
Grow your natural hair: Sew-in weave gives your natural hair and scalp underneath a break. What's more, it allows easy access to your scalp so that you can clean your scalp as normally you would. These benefits of sew in hair brings can prompt hair growth.
Best weave hair for sew-in
Brazilian hair:

Brazilian hair

is not hair sourced from Brazilian. It most probably comes from China or other Southeast countries. It refers to one of the highest-grade human hair that is soft and coarse. Brazilian hair is beautiful and available in wavy, curl, and straight. It holds curls well and blends perfectly with almost all hair textures.
Malaysian hair:

Malaysian hair

refers to human hair that is soft, thick, and silky. It typically comes with a low to medium luster. It looks extremely luxurious since it is heavier and thicker than Brazilian hair.
Peruvian hair:

Peruvian hair

is lightweight and thick. It typically comes in a straight pattern which is not bone straight but slightly wavy. It's full, coarse, and works to provide volume to one's hair look. And It looks natural for African-American women.
Tutorial: How to sew in weave?
Some may be wondering can they sew in hair extensions at home? The direct answer is "surely, no problem". If you feel hard to braid or sew in the hair on the back, you can ask for assistance from your mom or your friends. Of course, you can go to the salon and ask for help from a pro.
Items you need to prepare in advance:
Human hair bundles( 2-3 bundles);
Thread and needle;
Shampoo and conditioner;
A comb (If your hair is curly, pick a wide-tooth comb.);
Clips and hair ties;
A lace frontal or lace closure (optional);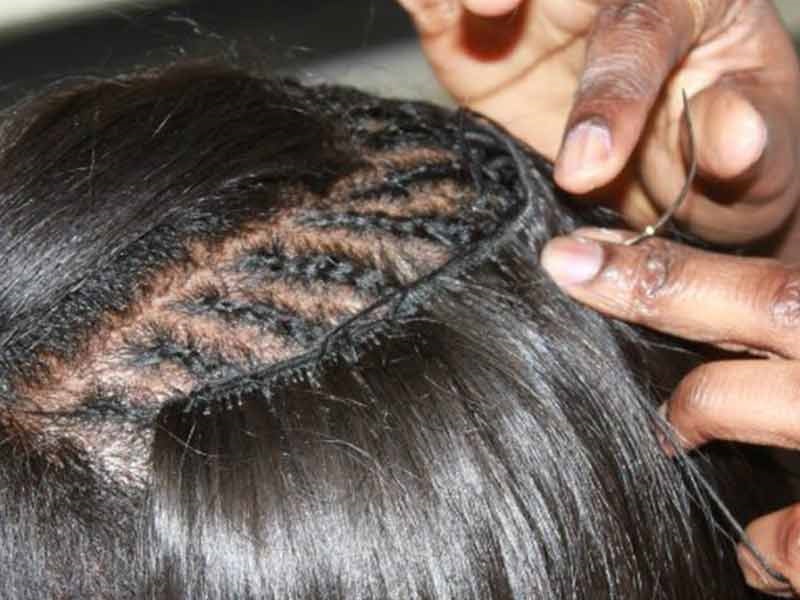 Step 1: Prepare your natural hair
Detangle your hair and then shampoo and condition your natural hair. Set the hairdryer at the lowest heat setting and then blow your natural dry thoroughly. Keep your scalp and natural hair clean in advance so that the sew-ins can last a long time on your head.
Step 2: Braid your natural hair
Section a part of your hair in the front and clip it away. Braid other natural hair into cornrows and secure the braids with rubber bands. You can also use some clips to make the braids as flat as possible.
Step 3: Sew in hair
Pick up a bundle and make a double knot with a threaded needle on the end of the weft. Start sewing in at the bottom cornrow (above your nack). Sew in weave along the track. Once it arrives at the end of the track, flip the bundle up and sew in weave along the next track. Continue to sew in, until you finish a full head sew-ins.
Step 4: Undo the leave-out hair
Undo the leave-out hair and comb to make it blend well with the weave hair. Sew in with leave out allows you to expose your real hairline and gives you a more natural look. If you have a weak hairline, you can also choose to sew in hair with frontal. A lace frontal can close your sew-in weave seamlessly and provides a natural hairline.
Step 5: Style your hair
And now the whole process of sew-in weave is finished. You can choose to curl or straighten your weave hair to make a natural and stylish hair look without bringing any damage to your natural hair.
Where to buy the best quality hair extensions?
Ula Hair provides various best weave hair in a variety of textures, colors, and lengths. All our human hair for sew-in is made with virgin hair, soft and silky in touches, glossy and natural in appearance. Our human hair weaves can last for more than 1-2 years with proper care. Click and explore the best human hair for sew-in weave at Ula Hair. Welcome to choose from Brazilian hair, Malaysian hair, and Peruvian hair.
Related Posts:
What is virgin hair? The truth of virgin hair!!
Hair Extension Guide for Beginners
What Do You Know About Human Hair Types of All Things?