20 Chic Heatless Straight Wig Hairstyles You Shouldn't Miss Out
In the diverse world of beauty and fashion, straight wig hairstyles have emerged as a standout trend, capturing the hearts of many style-conscious women. Their popularity stems not just from the timeless allure of sleek, straight hair, but also from the incredible versatility these wigs offer.
Straight wig hairstyles present a wonderful opportunity to experiment with lengths, colors, and styles without the long-term commitment or potential damage to your natural hair. Whether you're drawn to a chic, shoulder-length bob or captivated by the charm of very long straight hair, there's a straight wig hairstyle designed to suit every mood, preference, and occasion.
The advent of high-quality human hair wigs, such as those offered by Ula Hair, means that these wigs look and feel amazingly natural, often indistinguishable from one's biological hair. You can choose a style that mirrors your natural hair or opt for a completely different look to switch things up – the choice is yours.
In this article, we'll explore a variety of straight wig hairstyles, each offering its unique visual impact. From traditional styles to contemporary trends, straight wigs continue to prove their ability to enhance personal style while promoting hair health. Whether you're new to the world of wigs or a seasoned pro, we invite you to join us on this style journey.
20 Chic straight wig hairstyles for black women
1. Shoulder Length Short Straight Hairstyles
A shoulder-length straight wig offers a harmonious blend of style and practicality. The cut, falling just at the shoulders, frames the face beautifully while maintaining a manageable length. This style accentuates the jawline, highlighting the strength and grace inherent in her features. It provides a versatile base that can adapt from a professional setting to an evening outing effortlessly.

2. Very Long Straight Hair
Very long straight hair is the ultimate expression of femininity and charm. This style provides a dramatic contrast, allowing them to show off their bold personality and confident style. The length offers an array of styling options, from letting it flow freely to sophisticated updos.

3. Straight Wigs with Bangs
Straight wigs with bangs offer a youthful and playful look. Bangs provide a frame that accentuates the eyes and softens the forehead, adding a refreshing touch to the overall look. They can range from blunt and bold to side-swept and soft, offering versatility within the style itself.

4. Side Part Straight Wig with Long Layers
A side-part straight wig with long layers provides a classic and sophisticated look. This style adds volume and movement to the hair, enhancing the visual interest. The side part draws attention to the eyes and cheekbones, highlighting the beauty of their facial structure.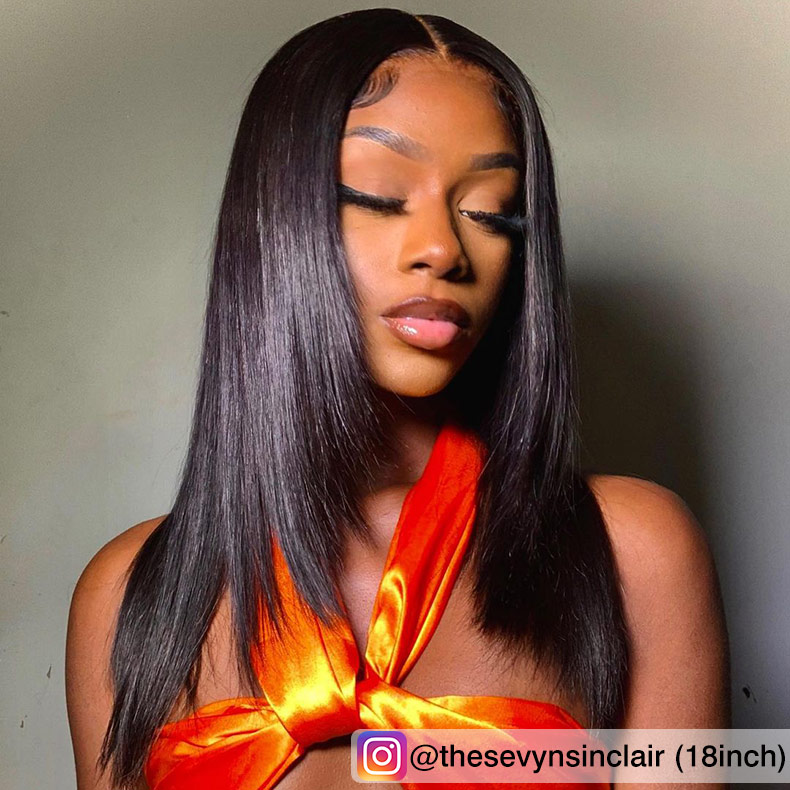 5. Yaki Straight Hair
Yaki straight hair is designed to mimic Afro-textured hair that's been relaxed. It's an excellent choice for black women looking for a natural, textured look. The Yaki straight wig offers an authentic feel, blending seamlessly with the natural hairline and creating a realistic appearance.

6. Straight Blonde Bob
A straight blonde bob is a modern and chic hairstyle that can truly make a statement. On black women, the contrast between the light wig color and the skin tone is striking, creating a vibrant and exciting look. The blonde bob illuminates the face and brings a unique, brightening effect.

7. Shoulder Length Curtain Bangs Straight Hair
Shoulder length curtain bangs are currently on-trend. They sweep to the sides, softening the forehead and drawing focus to the eyes. This look marries sophistication with a touch of retro appeal. It's a style that brings softness and an air of mystery to any look.

8. Buss Down Wig
The buss down wig is characterized by its long, flowy straight hair, parted precisely down the middle. Envision the hair beautifully cascading down from a distinct center parting. This style is about bold expression and confidence. The length and volume of the wig command attention and can be a striking choice for those who love to stand out in a crowd.

9. Middle-Length Grey Bob Wig
The middle-length grey bob wig is a symbol of modern chic. On black women, the contrast between the grey wig and skin tone brings a futuristic and sophisticated vibe. This hairstyle is perfect for those who are not afraid to experiment and make a stylish statement.

10. Blonde Ombre Straight Hair
Blonde ombre straight hair creates a smooth transition from dark roots to light ends. For black women, this style is a subtle way to introduce color without overwhelming their looks. The blonde ends illuminate the face, adding warmth and radiance to their appearance.

11. Half Up High Ponytail
This hairstyle balances the elegant touch with a playful touch. It accentuates the cheekbones and eyes, lending a youthful, spirited air to their look. It's a versatile style that can be dressed up or down, depending on the occasion.

12. Half Up Top Knot
The half-up top knot is a chic and versatile style that suits straight wigs beautifully. It's a unique blend of a relaxed and stylish look. The top knot draws attention upwards, accentuating the cheekbones and eyes, and adding an elevated twist to the straight hair. It's a balanced hairstyle that combines the comfort of having your hair pulled away from your face while still enjoying the length of your straight wig. This style works well for casual occasions and can be easily dressed up with accessories for a more formal look.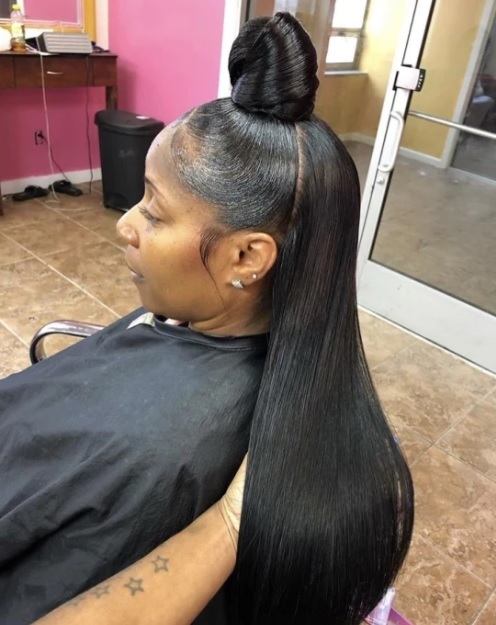 13. Straight Back Cornrows
Straight back cornrows offer a blend of tradition and style. For black women, this style accentuates facial features while honoring cultural heritage. It's a beautiful choice for showcasing the intricacy of cornrows while enjoying the convenience of a straight wig.

14. Sleek High Ponytail
The sleek high ponytail is a powerful and confident look that's perfect for both casual and formal occasions. It emphasizes the lines of the neck and highlights facial features, adding a sophisticated drama to their appearance.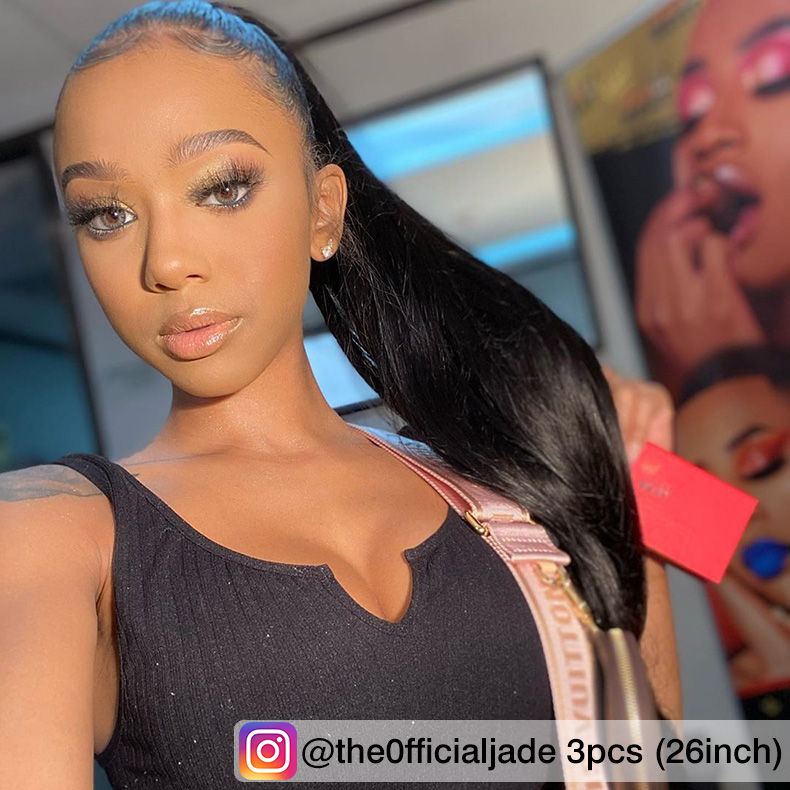 15. Straight Wig with Headband
A straight wig styled with a headband is a delightful way to accessorize and add personal flair to your hairstyle. It introduces a touch of retro chic that highlights the eyes and the shape of the face. The headband can also be a practical choice, keeping the hair off the face in style.

16. Blonde Highlight Straight Hair
Blonde highlights add depth and dimension to straight hair. For black women, these highlights can provide a striking contrast that illuminates the skin tone and adds warmth to their appearance. The interspersed blonde strands in a sea of darker hair can mimic the effect of sun-kissed hair.

17. Chic Pink Hair Straight
A chic pink straight wig offers a bold, fun, and eye-catching look. For black women, the contrast of pink against their skin tone creates a vibrant, youthful, and playful look that's sure to turn heads. It's a fantastic option for those who aren't afraid to express their unique style.

18. Box Braids
Box braids are a traditional and protective style that is widely appreciated. Incorporating them with a straight wig offers an intriguing combination of textures. For black women, box braids are a significant part of hair styling culture, and merging them with a straight wig can create a style full of personality and depth.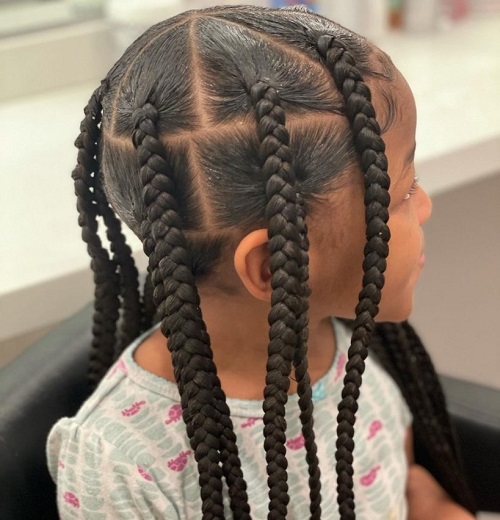 19. French Braids
French braids are elegant and practical for straight wigs. This classic style brings out the structure of the braid against the sleek straight hair, creating a neat, polished appearance. It's a versatile look suitable for many occasions.

20. Braided Bun
A braided bun with a straight wig offers an elegant and sophisticated look. This hairstyle accentuates the neck and collarbone area, adding an elegant touch. It's a classic updo that pairs well with all kinds of outfits, making it suitable for both formal events and casual outings.
FAQs
Q: How can I make my straight wig look fuller?
A: Adding volume to a straight wig can be done through a variety of methods. One way is through proper washing and conditioning, as clean, well-moisturized hair often appears fuller. You could also consider using a volumizing product designed for wigs or trying certain styling techniques, such as creating curls or waves and then gently brushing them out. Additionally, layering your wig can give the illusion of volume without the extra weight.
Q: Can you style a straight wig?
A: Yes, straight wigs are among the most versatile when it comes to styling options. You can wear them as is, or style them into updos, braids, or ponytails. You can even add curls or waves with heated styling tools, as long as your wig is made from heat-resistant material like human hair. However, it's crucial to protect the wig from excessive heat and to use appropriate styling products to maintain its health and shine.
Q: Are straight wigs easier to maintain?
A: In many ways, straight wigs are easier to maintain than their curly counterparts. They are less prone to tangling, and the straight texture makes it easier to comb and style. However, they still require proper care, including regular washing and conditioning, to keep them looking their best. It's also recommended to store them on a wig stand when not in use to maintain their shape.
Q: How do you take care of a straight hair wig?
A: Taking care of a straight hair wig involves a few key steps. First, you'll need to wash it regularly with a mild, wig-friendly shampoo and conditioner. Avoid brushing it while it's wet as this can cause damage. Instead, allow it to air dry and then gently comb through it. Using heat protectant sprays before styling with heat tools can also help to prevent damage. Finally, storing your wig properly on a wig stand or in a storage box will help preserve its shape and lifespan.
About Ula Hair
Ula Hair is a leading brand in the hair industry, providing a diverse range of high-quality human hair wigs and extensions tailored for black women. They understand the desire for variety, quality, and affordability when it comes to hair products. Hence, their offerings span across a wide spectrum, from straight to curly, short to long, and natural to colored options. All their products are crafted with meticulous attention to detail, ensuring a natural look, comfort, and longevity.
Ula Hair places a significant emphasis on empowering women through their hair choices. They believe that every woman deserves to feel beautiful and confident in her skin, and the right wig or hair extension can play a big part in that. Whether you're a fan of the straight blonde bob or intrigued by the chic pink hair straight, Ula Hair has a solution for you.
Conclusion
Human hair straight wigs offer a world of beauty and versatility. Their adaptability allows you to switch from a professional look to an evening-out style effortlessly. They frame your face, accentuate your features, and provide a platform for expressing your personality. No matter the occasion or mood, there's a straight wig hairstyle that fits.
From shoulder-length short straight hairstyles, and side part wigs with long layers, to bold colored options like chic pink or blonde highlighted hair, the variety is endless. Moreover, whether you prefer the simplicity of a sleek high ponytail, the sophistication of a braided bun, or the playful spirit of a half-up top knot, there's always a style to meet your desires.
Embrace the beauty of variety with Ula Hair. Visit ulahair.com today and discover the perfect straight wig hairstyle that matches your unique beauty and style. Don't hold back, let your hair speak volumes about you!
Related Posts:
Half Up Half Down Braids Hairstyles For Black Hair
A Comprehensive Guide to Curly Wig Hairstyles
How To Color Human Hair Wigs At Home?
20 Chic Braids For Black Women In 2023