Gorgeous Hairstyles For 14-Inch Hair
Gorgeous Hairstyles For 14-Inch Hair
How long is 14 inches of hair?
The length of 14 inches of hair is equivalent to 35.56 centimeters or 0.35 meters. Generally, 14-inch hair would be considered medium length and could reach just above or below the shoulders depending on the individual's height and hair texture.
Why 14-inch hair varies in various textures?
The length of hair is measured from the roots to the tip. When we say 14-inch hair, it means the hair is 14 inches long. However, the actual length of the hair may vary based on the texture of the hair. For instance, curly hair appears shorter than straight hair of the same length due to its curly texture.
Thus, the texture of hair can have an impact on the appearance of its length.
14 Inch weave hairstyles
Here are some popular 14-inch weave hairstyles for you to consider:
A short, sleek, and chic bob cut can be achieved with 14-inch weave hair. A bob cut can accentuate your facial features which makes it looks great on all face shapes. This style requires minimal maintenance and styling, making it a convenient option for those with a busy lifestyle. Explore gorgeous bob wigs for black women at Ula Hair. 14 Inch bob cuts are always in fashion and always work to make you stay trendy.

With 14-inch hair, You can achieve a beautiful layered wave style that looks natural and effortless. Soft and bouncy waves add dimension and texture to the hair, making it appear fuller and more voluminous. And this style can also make the hair look more youthful and vibrant, as it adds volume while removing excess weight. By the way, layered waves are also a low-maintenance hairstyle, as it doesn't require as much styling or upkeep as other hairstyles.

Half up half down style is perfect for those who want to show off their length and texture. The top part of the hair is pulled back, leaving the bottom part flowing freely. Unlike some updos that can feel heavy or tight, the half-up, half-down style allows for a comfortable and relaxed feel. It's a versatile hairstyle that can work for a variety of occasions, from casual to formal events. You can add curls or waves to the bottom part to create a more romantic look.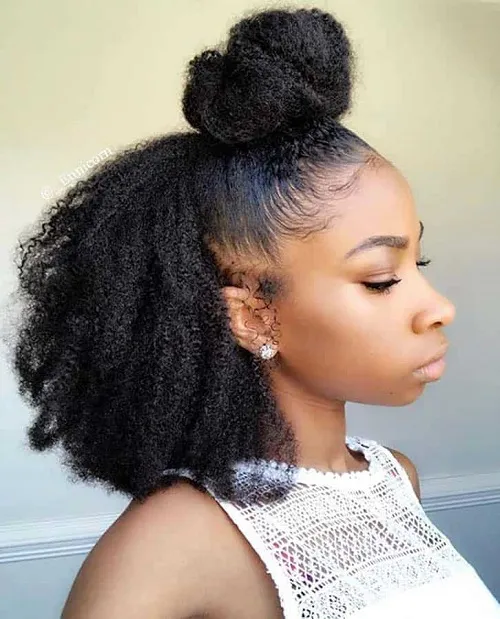 If you want to try something different, adding side-swept bangs can give you a whole new look. This style is great for those who want to soften their face shape or draw attention to their facial features. Besides, side-swept bangs are also a versatile option that can be styled into various styles, such as swept to the side, pinned back, tucked behind the ears, etc.
Here is a step-by-step tutorial to achieve lovely side-swept bangs:
Step 1: Prepare your hair
Shampoo and condition your hair as you normally would. Ensure your side-swep bangs are based on clean and tangle-free hair to achieve a neat and smooth result.
Step 2: Section off the bangs
Using a comb, part your hair from the center of your forehead to the crown of your head. Then, using the tip of your comb, section off a triangle of hair from the front of your hairline. This triangle should be about 2-3 inches wide and should be the same on both sides.
Step 3: Clip the remaining hair back
Use hair clips or bobby pins to clip the rest of your hair back so that it's out of the way.
Step 4: Trim the bangs
Using sharp scissors, trim the bangs to the desired length. Start with small cuts and gradually trim more if needed. Remember to cut the bangs at an angle so that they're longer on one side and gradually get shorter towards the other.
Step 5: Style the bangs
Using a flat iron or a round brush, style your side-swept bangs by sweeping them to the side. Use a bit of hairspray to keep them in place.
Step 6: Maintain the look
To keep your side-swept bangs looking good, get them trimmed every four to six weeks. Also, use a dry shampoo to keep your bangs looking fresh and oil-free.
A sleek and high ponytail with 14-inch weave hair is perfect for a sophisticated and polished look. You can add hair accessories, such as a scrunchie or hair tie, to make it more stylish.
Remember, with 14-inch weave hair, you can experiment with different styles and textures. Have fun and express yourself!
Space buns are a quick and easy hairstyle that can be achieved with just a few hair ties and pins. They are perfect for busy mornings or when you need a quick hairstyle change. It's also a versatile style that can be styled in different ways to suit different occasions. They can be sleek and professional or fun and playful, depending on the look you are going for.
Here is a step-by-step tutorial to achieve this chic style:
Step 1: Start by brushing your hair to remove any tangles or knots.
Step 2: Divide your hair in half down the middle with a parting comb or your fingers. Tie one side with an elastic band and repeat on the other side.
Step 3: Take one section of hair and twist it in a circular motion, making sure to keep the hair tight. Begin to wrap the twisted hair into a bun on the top of your head. Finally, secure the bun with bobby pins or another hair tie.
Step 4: Repeat the process on the other side.
Step 5: Use hairspray or styling gel to smooth down any flyaways. If desired, add hair accessories or glitter to spice up your space buns.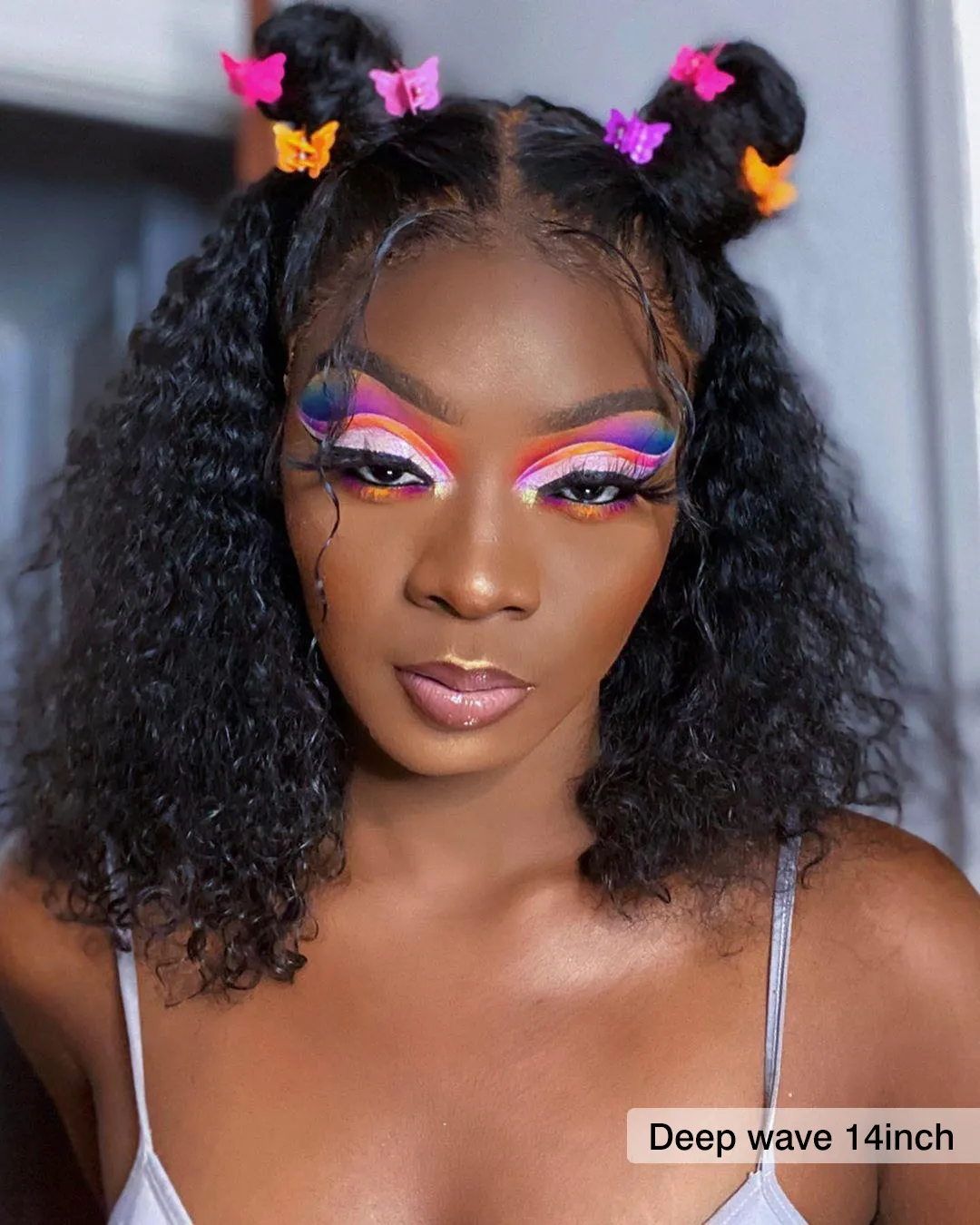 Ula Hair offers 14-inch hair (100% human hair extensions and human hair wigs) in a variety of textures, colors, and styles. Feel free to visit our online hair store. For more chic 14-inch weave hairstyles, feel free to chat with our sales consultants online to get your next hairstyle inspiration.
Related Posts:
Hair length chart | How long is 14-inch hair?
How to choose the best wig length?
6 Protective Hairstyles Recommended For 4C Hair